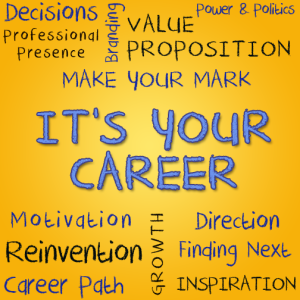 The "It's Your Career" series at Management Excellence is dedicated to offering ideas, guidance and inspiration for strengthening your performance and supporting your development as a professional. Use the ideas in great career health!
—
We all know that we live in an era of constant change. Gary Hamel in his excellent video on the reality and near future of management, "Reinventing the Technology of Human Achievement" suggests that even "change is changing." It impacts our firms, competitors and markets, and of course, change impacts all of us in our jobs.
And more often than not, the thought of change is enough to send us scurrying for cover.
However, hiding or simply allowing fear of the unknown to seize your emotions is the wrong approach in a situation that stands to be both a rich learning experience and an opportunity for you to showcase your value to your managers and your firm.
Organizational Health Demands Learning and Change:
In the McKinsey study summarized in "Beyond Performance" by Keller and Price, the definition of organizational health is one where a firm "aligns, executes and renews faster than competitors." The align/execute/renew tasks imply the need to be in a constant learning and adapting mode, and that means that firms, teams and individuals must adjust their strategies and approaches to cope or leverage changing market conditions. Naturally, this means our own roles and tasks and teams will change.
The McKinsey study goes so far as to offer a causal relationship between this ability to learn and change and drive financial results. Firms that do this well win and firms that don't struggle or die. Now, about that new team you are being asked to join or that new set of challenges in front of you and your group… .
Don't Assume the Worst About the Rationale for Change:
While there's little doubt that change is often mismanaged by those in charge of leading it, and I've certainly observed change that was politically motivated rather than motivated by market conditions or opportunities, more often than not, the need to change is based on very legitimate issues. In particular, in those organizations where leadership is critically concerned about serving stakeholders (employees, customers, suppliers, partners and shareholders) and building or sustaining success, change is essential for prosperity. Markets, technologies, customers and competitors don't stand still and don't doubt that your competitors would love to keep you and your team members from earning those bonuses or paying those bills. We're all in competitive markets and our ability to quickly change and adapt is essential not only for success, but survival.
Adjust Your Attitude and Seize the Golden Opportunity that Change Offers You:
The only people truly nervous about change should be the leaders and managers leading the charge on change. After all, they're dependent upon everyone else for their success.
Try spending a few minutes walking in your manager's shoes and you would quickly learn that she's hoping and looking for someone and some people to step up and help with change. Whether it's building that new market-focused team or combining two formerly siloed groups into one or taking on a new set of customers or tasks, your willingness to help with the heavy lifting is a priceless opportunity to stand-up, stand-out and enhance your professional equity.
To seize this opportunity, you will need to quell that queasy feeling of, "I'm not certain what this means for me in my work" and adopt the more productive perspective of, "If I jump in, I can help form what this means for me and my team, and I can help my manager and firm." There's a profound difference between the two types of thinking and the behaviors and results each one promotes.
The Bottom-Line for Now:
When faced with change, fight your natural instinct to hide or react with outrage. Take a few deep breaths and recognize that you will be dealing with change the rest of your career and you can either make it your friend and an engine for your growth, or, it's going to be a long, unpleasant career. My vote is for you to jump in and pitch in. Your manager and your firm need your help and your career might just get a boost in the process.
—
Don't miss the next Leadership Caffeine-Newsletter with subscriber-only content! Register here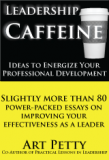 For more ideas on professional development-one sound bite at a time, check out Art's book: Leadership Caffeine-Ideas to Energize Your Professional Development. 
New to leading or responsible for first time leaders on your team? Subscribe to Art's New Leader's e-News.
An ideal book for anyone starting out in leadership: Practical Lessons in Leadership by Art Petty and Rich Petro.