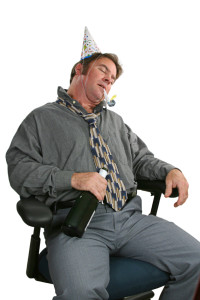 It's time for my annual Scrooge-like post on how a few drinks at the wrong time can damage credibility and derail your prospects.
This is a season filled with potential social traps and ripe with opportunites for awkward moments as we blend the ever-present and oft dreaded holiday event with the opportunity to drink with coworkers.
I wrote on this topic last year in what turned out to be a wildly popular post entitled, "Why You Should Pass on the Happy Hour Invite from Your Team," with most of the feedback supportive and some of the feedback insisting that I might be one of the bigger morons to ever put words on a blog. As I noted in the original post, I'll gladly wear the label of Curmudgeon of the Year with honor if this fair warning can protect a few promotions and save a few position or career-derailing moments.
Let the record reflect, I enjoy a good drink or a great glass at the right, safe time…there's no teetotalling and no intent to judge or moralize here. My focus is purely on the professional setting and your career circumstances. Please add to the record, that I've lived and worked long enough to have been around way too many otherwise solid professionals who have damaged their situations by not heeding this advice.
6 Big Reasons to Hold Back at the Company Holiday Party:

1. The stupidity factor. Yours. Once you crossover the line of one too many, you get stupid. You look stupid. You act stupid and everyone of any consequence will walk away with a lasting impression burned into their brain of just how stupid you acted.  Know that there's a universal rule of corporate and organizational life that SOMEONE must select us for success. SOMEONE never promotes a person who they connect with the word stupid.
2. More stupidity. How many examples of harassment claims do you need to hear about that were created in an environment where coworkers and alcohol co-mingled? You don't have enough time. The cost of that drunken maneuver is truly a high price that you can ill afford to pay.
3. Blown opportunities to connect and impress. The great thing about social settings with the senior managers is the opportunity to connect with them and their significant others in a more relaxed and upbeat atmosphere. You'll likely have an opportunity to share a few words and even get into an extended conversation with someone of consequence. But remember, no one has ever been impressed by someone with their shirt hanging out, tie askew and an endless stream of slurred, "I love it here," comments. While a forgiving boss might write it off to a good time, the significant other will not be impressed. The boss will hear about it. Missed or blown opportunities to connect and engage are costly to your career health.
 4. A drunk boss on Friday is a different boss on Monday. Sorry, no one of your team members who observed your antics will ever see you in quite the same light.  Since leadership is much about credibility and trust, why would you jeopardize one or both of those critical currencies? You can't write it off to, "I was just letting my hair down and relaxing with the team." As a boss, you're never off the clock.
5. Loose lips and reduced inhibitions. There is no moratorium or timeout on decorum or common-sense. You might be tempted under the influence to tell that idiot in the next department what you really think of him. Bad move. You will be remembered for the wrong reason.
6. The company holiday party is NOT a time to blow off steam. I repeat, this is not the time to blow off steam.
The Bottom-Line for Now:
Enjoy the holiday event! Have a lot of laughs with your coworkers. Shmooze the boss. Be polite and respectful and interesting to the boss's significant others. Nod politely at your least favorite co-workers and be friendly to their significant others. Just don't cross that line, even if everyone around you is too drunk to heed this advice.
–
More Professional Development Reads from Art Petty: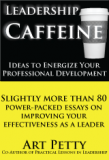 Don't miss the next Leadership Caffeine-Newsletter! Register here
For more ideas on professional development-one sound bite at a time, check out Art's latest book: Leadership Caffeine-Ideas to Energize Your Professional Development.
Order one or both books for your team. Contact Art.
New to leading or responsible for first time leader's on your team? Subscribe to Art's New Leader's e-News.
–