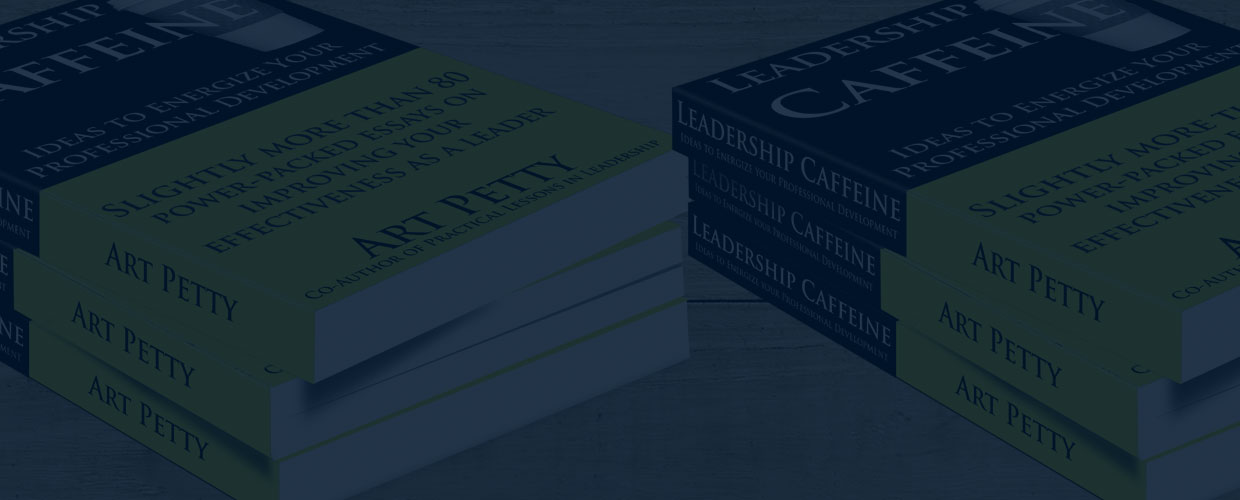 Leadership Caffeine is what the title implies – a pick-me-up for those looking to how to lead as well as how to lead more effectively. If this is you, then "Leadership Caffeine" will serve you well.
"Great book that is going to help me out with my Supervisory Training Classes. Art has a way of finding and dealing with all the issues!"
"Leadership Caffeine gives you a jolt to develop and remember what it takes to be a good leader. There are so many essays in this book that I wish my former bosses would have read."
Ideas to Energize Your Professional Development
This book is designed to be your personal, portable, professional development coach.
Whether you are turning to just the right essay for ideas and inspiration during challenging times or, you are reading one per week, I guarantee there are ideas, approaches, tools and a few chuckles to lift your spirits, support your work and inspire you and your team members to new and greater levels of performance!
Leadership Caffeine is ideal for: 
Motivated Professionals seeking a performance edge in their career
Leaders of all experience levels, including new, first-time leaders
Leadership & Management Discussion Groups looking for rich, idea-prompting topics
Teams & Project Groups
Classrooms/Instructors seeking a practical way to talk about developing as a leader
Every essay incorporates an upfront context-builder, lists of ideas and best practices and a "Bottom Line for Now" perspective on the importance of the topic in your career.
Whether reading on a e-reader (kindle) or in paperback, this book is intended to offer ideas and encouragement in less time than it takes to consume a cup of coffee!
Book Structure and Content 
The content consists of more than 80 individual essays–short reads where the focus is on ideas for leading, succeeding and problem-solving. The book's sections include:
Developing Yourself
Creating High Performance Teams
Making Better Decisions
Surviving and Thriving in a Political Environment
Surviving the Tough Days
Managing Your Boss
Developing Leadership Agility
Leadership Advice with No Expiration Date
Pursuing Greatness as a Leader
The Lighter Side of Leadership Caffeine