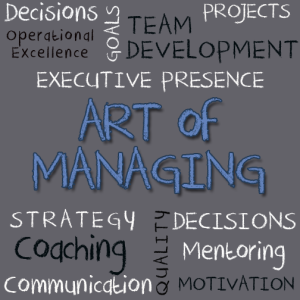 The Art of Managing series is dedicated to exploring the critical issues we face in guiding our firms and teams to success in today's volatile world.
—
Effective leadership is a critical success factor for projects of all shapes and sizes.
And breathing is good for living.
It's hard to argue with either of these statements, nonetheless, too many project managers deeply skilled in the mechanics of their vocation fall short on learning and practicing the soft-skills critical for high performance team development. When project fail…and too many do, there's a safe bet that people-related issues are key contributors to the initiative's demise.
Great project managers define their role beyond the project mechanics liberally. Working with team members at the front-end of the project to define the role and accountabilities of the project leader is a great practice that improves the odds of team success. The development of a Project Leader's Charter is a simple, powerful technique that helps everyone involved gain a clear, consistent and comprehensive view of the leader's role.
Great project leadership is both science and art. A large part of the role is about forming and framing the environment for your talented team members to do their best work in pursuit of meeting customer and stakeholder needs. Ensuring that you and the team define the values that drive acceptable behaviors to tackling the sticky issues of how decisions will be made to how the team will talk, work, decide, resolve and perform together are all captured in your Project Leader's Charter.
Seven Simple Steps to Defining and Developing Your Own Project Leader's Charter:
1. Start by Asking Questions: take the time to think deeply about what your role in creating success with this initiative should be. Meet individually and in groups to discuss the following:
What's the nature of this project? Innovation? Implementation? New development?
How does the project connect to firm's/customer's strategic initiatives?
What are the critical success factors for this initiative to succeed?
What does this team need from project leadership to succeed?
The pre-post mortem, part 1: assume the project has concluded successfully, what might you imagine we would say about the project leader's role and contributions to the success of this initiative?
The pre-post mortem, part 2: assume things went wrong and we failed to hit our objectives. Where did project leadership let us down?
You get a vote…ask and answer: what can I do to optimize our chances of success?
2. Write the Draft: armed with the input from your team members, write a draft of the charter. Start with, "My Charter as Project Leader is… ." Strive to minimize the cliché statements and use verb phrases that specifically describe what you will do and what you are accountable for with this initiative. Length isn't incredibly relevant…from a few well developed sentences to a couple of paragraphs supported by bullets. Quality and clarity count more than length.
3. Review the Draft with Team Members and Solicit Feedback: the iterative nature of this activity ensures that team members buy-in to your role and clearly understand what to expect. An indirect benefit is that this will challenge them to think about their role as well. Revise and share the final draft.
(Best Practice Tip: one project manager I know has everyone on a team create and share their individual Charters with each other as a means of ensuring role clarity and visibility.)
4. Post the Charter: I love to see these shared in project documents as well as made visible and public for the duration of the project. Some Project Managers hang them in their offices or cubicles. Others grab wall space for project documents and ensure that this is visible in that public setting.
5. Live the Charter. Daily: the exercise of writing the Charter is healthy. Reading it daily and considering how to incorporate the key tenets in your day's activities is priceless.
6. Remember the Charter When "It" Hits the Fan: something always go wrong at some point in time. The Charter is your guide to the right behaviors in the middle of whatever crisis is threatening your team. Return to it and develop your actions in concert with the behaviors and values outlined in the document.
7. Ask the Team to Evaluate Your Performance Using the Charter as a Guide. We learn by doing and feedback is part of the process of growing and improving. Ask your team members to evaluate your performance versus the key tenets and behaviors/activities identified in your Charter. Use this input as rocket fuel for improving with your next project adventure.
The Bottom-Line for Now:
Striving for high performance should be the goal for every project manager on every project. It's lofty, difficult and in some cases, the pursuit of high performance gets lost in the haste and pace to navigate the pitfalls and move the army forward. Let a carefully thought-through Charter serve as a guide to your True North during every project. Get your role right as project leader and the odds of success for the entire team, your firm and your customer improve dramatically.
—
Don't miss the next Leadership Caffeine-Newsletter! Register here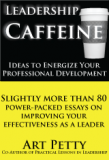 For more ideas on professional development-one sound bite at a time, check out: Leadership Caffeine-Ideas to Energize Your Professional Development.
New to leading or responsible for first time leaders on your team? Subscribe to Art's New Leader's e-News.
An ideal book for anyone starting out in leadership: Practical Lessons in Leadership by Art Petty and Rich Petro.