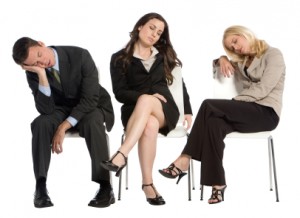 Having fulfilled my lifetime quota of attendance at poorly run meetings, I've developed a bit of a crusade mentality to guide others on how to run these sessions effectively. This is a follow-on to a recent piece in my New Leader Tuesday series, entitled: 15 Ideas to Help You Tame the Meeting Beast.
Here are my latest top 11 ideas for taming the meeting beast and actually getting something out of these infernal sessions. Readers, if you have some more ideas, tack on your contributions here and we'll all be a bit wiser.
At Least 11 Ideas to Help You Run Effective Meetings:
1. The most important rule: don't call a meeting unless you absolutely have no other choice.
2. See number 1 and exhaust all opportunities to wrestle your issues one on one in lieu of calling a meeting.
3. See number 2 and recognize that it's unlikely that your meeting will lead to a decision or a conclusion. Work those issues through in one-on-one sessions before the meeting.
4. Measure twice, cut once. A meeting's effectiveness is a direct function of the background preparation of the participants. That's on you as the meeting organizer. Pre-publish the agenda, describe the issues and identify specifically what you want to talk about during the actual meeting.
5. Learn and use guided discussion techniques such as Six Thinking Hats by Edward De Bono to minimize the discussion churn that dominates most sessions.
6. Teach your meeting participants to focus on interests, not positions. We argue over positions, we build towards interests.
7. When teams get stuck on a topic, use the re-framing technique to stimulate ideas and discussion. If something is framed negatively, try on a neutral or positive frame and see where the discussion takes you.
8. Ask someone to capture key discussion points in a visual format. I still love flipcharts. Whiteboards work as well. If your room doesn't have a flip-chart or a whiteboard, don't hold the meeting there until it does.
9. Five out of every five people will be willing to talk and show you how smart they are. It's good to work around smart people, just ensure that you drive discussions to capture points and actions. Otherwise, all you are doing is allowing people to contributie to global warming.
10. Not every meeting has to beget another meeting. I checked the rulebook…there's no requirement that demands this happen. Use the meeting output and encourage people to return to items 1 and 2 above.
11. Rulebook part 2. There's no rule on requiring a meeting to run its allotted time. Completing a 60 minute meeting in 40 minutes is like winning the psychic lottery. Found time is always good.
The Bottom-Line for Now:
You'll rarely see or hear the words: "good" and "meeting" next to each other in the same sentence. They are by law, oxymoronic. However, if you must corral your fellow humans in a stuffy room with bad chairs to socialize something, make it purposeful, useful, efficient and effective. There's a special place in our hearts for those who pull it off. And well, there's a special place somewhere else for the rest of you who don't.
—
Don't miss the next Leadership Caffeine-Newsletter! Register here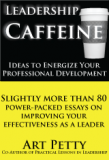 For more ideas on professional development-one sound bite at a time, check out Art's latest book: Leadership Caffeine-Ideas to Energize Your Professional Development. 
Download a free excerpt of Leadership Caffeine (the book) at Art's facebook page.
New to leading or responsible for first time leaders on your team? Subscribe to Art's New Leader's e-News.
An ideal book for anyone starting out in leadership: Practical Lessons in Leadership by Art Petty and Rich Petro.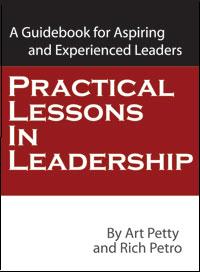 Need help with Feedback? Art's new online program: Learning to Master Feedback