One of my favorite parts of helping experienced professionals identify their "next" in their careers is helping them open their minds to the many alternative paths available to them.
Typically, we hold a narrow view of our abilities and experiences, and we have a linear idea of where these might apply. I've done X for ten years, or I'm great at Y, and my options include doing more of this/doing this at a higher level or doing this for a different firm. But what if you recognized those abilities and experiences hunted in entirely different arenas and roles from the ones you are most familiar with?
Doesn't that sound exciting and maybe just a little bit frightening?
Those potential paths are there for you, probably just out of sight and waiting to be uncovered and explored. Find some help to discover them.
The Bottom-Line for Now:
If you are motivated to make a meaningful change in your career—one that feeds your spirit and wallet—it's imperative to find opportunities that open you to new experiences and draw upon or draw out your abilities in new ways. Doing something just because you did it doesn't make sense in a world of radical change.

—
Additional Resources: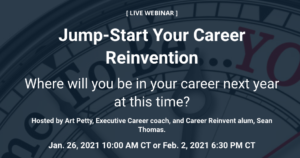 I'm hosting a free webinar: Jump-Start Your Career Reinvention on two different days/times to help you start the work of uncovering your "next" options. Join me and a Career Reinvent Boot Camp Alum, Sean Thomas on 1/26/21 at 10 a.m. central or 2/2/21 at 6:30 a.m. central. If you are reading this
 after these dates, drop me a note and request the replay.
Career Reinvent Boot Camp: this is ideal if you are ready to do the work. 
My growing library of Career Reinvention articles.