Two professional development opportunities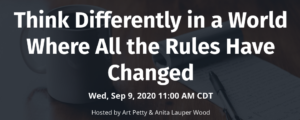 Next Wednesday, September 9 at 11 AM Central, I'm live along with Anita Lauper Wood to share ideas and approaches to help you level up in your career while helping your organization level up in the face of unrelenting change and a vexing crisis.
If you've followed my work here at the Management Excellence blog for any amount of time, you know I'm passionate about the need for us as individuals to level up while helping our organizations do the same. You also know that I'm all about turning ideas into actions with practical approaches.
Here's what we'll be covering in the webinar:
How Thinking Differently can help you make an impact and improve personal, team and organization performance
Why you need to rethink your role as a leader to level up in your career and help your firm succeed in this complex environment
The power of "Beginner's Mind" thinking
How to Think Differently about developing high-performance teams
Why you need to blow up your traditional approaches to brainstorming and how to immediately improve idea generation activities
How to change the view on your markets and customers and rethink your firm's approach to strategy
We hope you'll join us for some thought-provoking content, practical actionable ideas, and even a bit of fun along the way as we share ideas and field questions.
—
2. First Time Managers Academy Early Bird Registration Ends at 11:59 PM Pacific on 9/3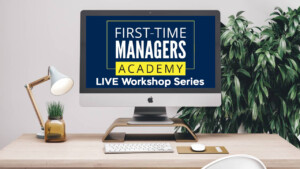 Laura Bantz and I are thrilled to translate our popular on-demand program into a live-online, instructor-led series over six sessions. We kick off on 9/10 and have a great cohort developing from across multiple industries. (Registration closes 9/9 and early-registration pricing ends at 11:59 PM Pacific on 9/3.)
You get my experience as an executive and accomplished developer of talent along with our practical, actionable ideas for helping new managers acclimate to and succeed in this difficult transition.
In addition to the program content, we provide one-on-one coaching and on-going support to all program alumni.
There is no equivalent new manager development experience. If you are responsible for developing new managers, this is the program to help them succeed at start-up.
You can learn more about the content and link to registration here. Pricing goes up tonight and space is limited!
—