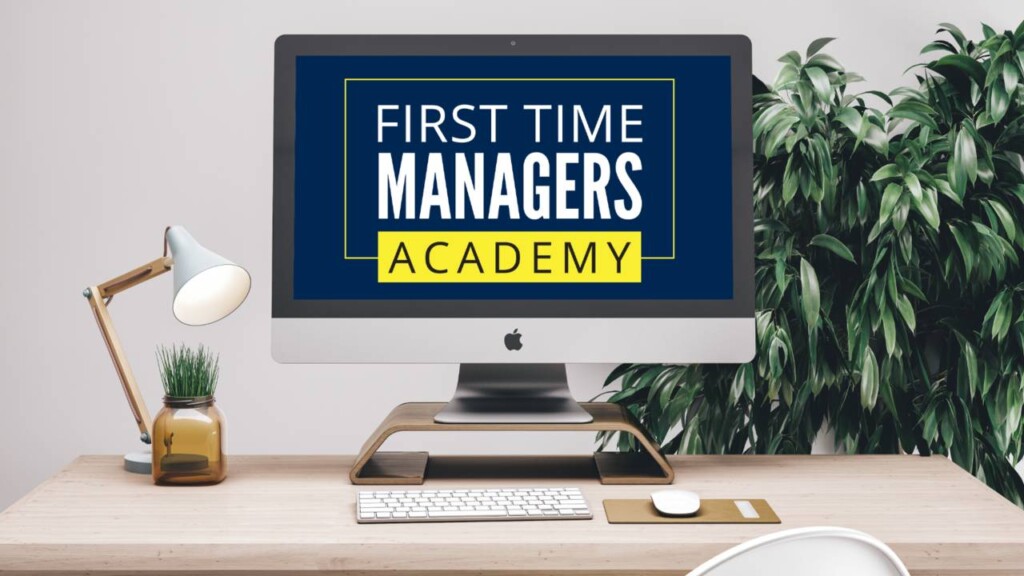 About the Program Creators/Instructors:
Art Petty is an executive and emerging leader coach and one of the foremost developers of management and leadership talent. Art was a long-time technology industry senior executive and has served as an MBA educator for many years. Art has written numerous leadership and management books and over 2,000 articles.
Laura Bantz is a learning and development specialist, educator, emerging leader coach, and course/program creator. Laura has teamed with Art to create and deliver the  Crushing It with Challenging Conversations and First-Time Manager Academy programs (live, live-online, and on-demand), and is a management educator passionate about helping create the next generation of talent in our workforce.
First-Time Managers Academy
For aspiring, new, or recently promoted first-time managers, this program will jump-start your success!
Moving from contributor to manager is one of the most challenging steps of your career! It's critical to have help.
First-Time Managers Academy is a 6-week program sprint for recent or soon-to-be new managers who want to start strong and succeed sooner. This program helps the new manager build a foundation and key behaviors essential for success. The blend of live-online working sessions, one-on-one coaching, and e-learning support make this a unique and powerful offering for new managers.
Early Fall 2020 Session Registration is Sold Out!
Drop us a note to learn more about upcoming sessions or to request a program for your team.
Powerful, actionable guidance delivered in six 90-minute working sessions + one-on-one coaching + e-learning to help you rethink your approach and help you grow the performance of your team and organization.
Note: all sessions recorded in case you have a schedule conflict.
Approach:
First-Time Managers Academy blends virtual classroom training with one-on-one coaching and e-learning to help new managers succeed with their level-up challenges.
The live-online working sessions introduce key topics and encourage participants to think through the ideas and approaches in all-group and breakout discussions.
The coaching portion of the program is tailored to the individual and focused on adjusting or adopting behaviors to promote growth and high-performance.
Participants have evergreen access to an e-learning portal that includes resources, links, and content and tools on how to apply course concepts in the workplace and sustain long-term development.
What Participants Learn:
Navigating and Succeeding with the Transition from Contributor to Manager
From team member to team manager: navigating the transition
Where many new managers trip and how to avoid the obstacles
Understanding your new role
Aligning with your boss on charter and mission
Building Trust with Your Team
Applying the performance-enhancing power of Swift Trust
Assessing their needs for a manager
Using Angela's Question to define your role in their eyes
Creating your leadership charter
Bringing your leadership charter to life
From Group to Team and Performance
Moving beyond the early-awkward phase of the relationship
Using the 3W's approach to jump-start collaboration
In pursuit of high-performance
Winning with One-on-Ones
Understanding the purpose of these regular contact sessions
Designing one-on-ones that promote dialogue and exploration
Keeping them fresh and engaging
Other critical communication practices
 Performance Discussions that Work 
How to deliver quality constructive and positive feedback
How to gain feedback on your performance
Why feedforward is so powerful
Using goals to promote performance
Coaching discussions on-the-fly
Running Great Team Operations Meetings
Develop your operations meeting philosophy and approach
How to build an agenda that works for them and you and your boss
Rotating responsibilities for agenda and facilitation
Building relationships by inviting peers/executives to your operations meetings
Developing your team members
Creating time for development discussions
An agile approach to team member development
Creating opportunities to explore, experiment, innovate
Developing Yourself
Thinking differently about everything
Learn faster, constantly
Setting goals for yourself the right way
Registration for the Live-Online Series is Closed
Registration includes access to all sessions, including guest speakers, one-on-one coaching, and evergreen access to the program's e-learning portal. Payment is via credit card
Questions: e-mail Art Petty at [email protected]
Policies:
Payment in full ahead of the course start date is required for participation
Refunds are not available, however, if an individual experiences extenuating circumstances, a credit will be provided for a future cohort or other Art Petty programs, including coaching.