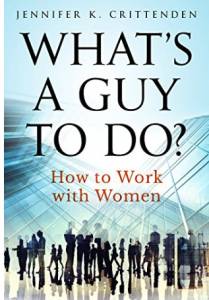 Timely, Relevant, Book Filled with Great Guidance
I sat down recently to chat with Jennifer K. Crittenden, a former public company executive and author of some excellent and timely books for our world, including: The Discreet Guide: A Guide for Executive Women (How to Work Well With Men and Other Difficulties), and her most recent, What's a Guy to Do?—How to Work with Women.
One of the joys of this podcast/interview medium is the opportunity to hear and learn from some incredibly smart people. Jennifer draws upon her first-hand experience and subsequent experience as a coach and consultant to offer some of the most practical advice for men and women, I've yet encountered on these challenging issues of diversity, fairness, and appropriate conduct in the workplace.
We range far and wide from the workplace to Hollywood to the difference between men and women in leadership (she uses the word: "hooey") to guidance on developing executive presence and strengthening self-esteem. As a bonus, we learn about her fabulous real-life experiences in: The Mammoth Letters: Running Away to a Mountain Town.
Jennifer should add "expert interviewee" to her many skills and abilities. We're all the beneficiaries of her wisdom and ability to articulate great guidance. You can learn more about Jennifer via her website.
Enjoy the interview!