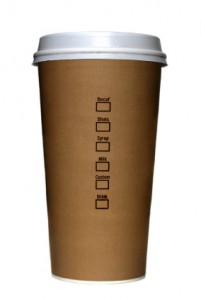 There are few attributes more valuable to leaders than the ability to stare uncertainty in the face and recognize it as a golden opportunity to shape and form the situation to their own and to their firm's advantage.
I've observed many managers including senior leaders respond to uncertainty and ambiguity in their markets and with their customers by slowing or stopping forward motion to assess whether a direction change is required, only to let the stop become a permanent encampment.
For teams and firms that freeze-frame and initiate a hunker down atmosphere, focusing on risk instead of opportunity predominates and walls and barriers go up to keep the outside world "safely" outside. Fear takes up permanent residence in the workplace environment and people withdraw from ideation and innovation, and focus on the instinctual drive to survive.
This stop-motion reaction to uncertainty and ambiguity is almost always a formula to accelerate decline as investments shrivel, learning and experimentation disappear and process begets more process in a futile attempt to impose internal order in response to a chaotic external environment.
At this point, leadership has failed.
5 Ideas to Start Flipping Uncertainty and Ambiguity Upside Down:
1. Tackle the uncertainty topic head-on. Too many leaders attempt to provide a false sense of assurance anchored to the premise that things won't have to change. That's wrong and they will. Acknowledging uncertainty in the environment paves the way for shifting the team's energies towards idea generation and experimentation.
2. Invite the organization to the discussion on what's next. While your instinct might be to retreat to the boardroom with your peers and external consultants, the right response is to build forums that help everyone process on and participate in the discussion and idea generation needed to cope with changing market or industry conditions. I love the three simple questions: What's working? What's not? What do we need to do? The last of the three draws upon the first two, and the goal is to identify where to do more of what's working and what to add to the mix.
Make certain to anchor the dialog around a discussion and assessment of the external conditions. Make doubly certain to engage customer-facing colleagues in these sessions. Last and not least, do something with the input.
3. Get outside of your own walls. The truth is always somewhere beyond the view of your parking lot. The leaders I've observed who navigate uncertainty and ambiguity effectively, work hard to gain the input and insights from customers, partners and other leaders in different industries. That week at Kellogg, Stanford or Harvard might offer some great instruction, but the interaction is priceless. The time spent on the shop floor of your customers is likely even more valuable.
4. Like rock beats scissors, action beats fear. Most organizations haven't internalized the mentality and approaches that support intelligent experimentation around strategy development and execution. New market development and penetration, like eating an elephant is best consumed one bite at a time. Place a premium on building communication loops that translate experiments and lessons learned into new or refined plans, and keep moving. Accept failures as long as the lessons learned are incorporated into next steps. Build on successes and when a clear path emerges into a new market or customer audience, pour on the coals.
5. Recognize the power to create that's inherent in an environment of ambiguity and uncertainty. Gary Hamel describes management as "the technology of human achievement." The modern form of the organization allows us to assemble remarkably intelligent individuals and to organize in groups that when properly motivated, are capable of anything they set their collective mind on. The lack of pre-prescribed approaches or the constantly shifting rules of engagement in our markets and industries is indeed the fuel for the pursuit of great achievement.
The Bottom-Line for Now:
I frankly love the world of uncertainty and ambiguity that we are practicing as leaders in managers in every day. I firmly believe that the need for assessment, adaptation and experimentation helps elevate us to perform at our creative and intellectual best.  It can also force us to hunker down in our caves hoping the storm or danger will pass and leave us untouched. This last approach is a sure-fire guarantee that we'll end up as global road-kill. It's essential to keep moving, learning and changing and it's your job to help your team members and colleagues do the same.
—
More Professional Development Reads from Art Petty: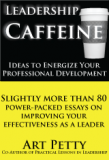 Don't miss the next Leadership Caffeine-Newsletter! Register here
For more ideas on professional development-one sound bite at a time, check out Art's latest book: Leadership Caffeine-Ideas to Energize Your Professional Development.
New to leading or responsible for first time leader's on your team? Subscribe to Art's New Leader's e-News.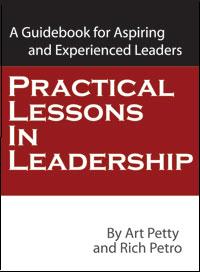 An ideal book for anyone starting out in leadership: Practical Lessons in Leadership by Art Petty and Rich Petro.