Note from Art: Every week I offer ideas to encourage you to stretch and grow. Use them in great professional health!
—
Do: Volunteer to Lead an Initiative to Solve a Lingering Problem.
In most organizations, the problems are well identified. It's finding someone to do something about the problems that's the issue. Listen carefully for one of those annoying, recurring issues that seem to exist in some gray area between functions, and volunteer to lead an initiative to stomp the problem out of existence. Make certain to recruit some help on the spot.
In addition to the chance to stretch your leadership skills with your volunteer team, you'll quickly gain the attention of your senior managers as someone willing to go the extra mile to improve the business. What a great, positive way to grow your power and influence!
Make certain when the project wraps up successfully to both thank your team members and to reach out to their direct managers and offer your appreciation for the hard work of their employees. You're team members will appreciate your support.
Rinse and repeat.
Experiment: Add Energy to Your Team by Rotating Responsibilities
Keep your team members fresh, challenged and learning by making assignment rotation a regular part of the working culture. Nothing builds empathy with others by spending some time walking in their shoes or navigating their tasks. I value team members who are competent and confident in stepping up and filling in for a colleague. Instead of waiting until it's a necessity, be proactive and have team members teach and then step in for each other.
Explore: Take Your Team on a Field Trip
Chances are you haven't been on a field trip since middle school. While you can skip the permission slips and leave the pb&j sandwiches behind, consider an opportunity to get your team off-site and immersed in an activity or environment that stimulates creativity and thinking. My favorites…a visit to a natural history or cultural museum; a symphony concert or a tour of a factory in a completely unrelated industry. Encourage your team members to jot down any ideas sparked by the trip and schedule a debrief meeting. While I can't guarantee that a killer idea will emerge, the opportunity to rest and recharge and engage in a unique setting will be a positive for the team. And, remember, it just takes one idea!
—
That's it for the early encouragement in our new week. Best of success as you do/experiment and explore! -Art
—
Don't miss the next Leadership Caffeine-Newsletter! (All new subscriber-only content!) Register here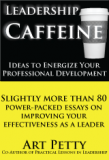 For more ideas on professional development-one sound bite at a time, check out: Leadership Caffeine-Ideas to Energize Your Professional Development.
New to leading or responsible for first time leaders on your team? Subscribe to Art's New Leader's e-News.
An ideal book for anyone starting out in leadership: Practical Lessons in Leadership by Art Petty and Rich Petro.