Or, Why You Might Lose Your Business If You Don't Change the View:
Michael Dubin just sold his startup for a cool billion $ to European consumer products behemoth, Unilever. His four-year young firm is reportedly not profitable, although it has signed up 3.2 million paying subscribers.
In case you are not familiar with Mr. Dubin, his business, Dollar Shave Club is effectively a mail-order firm for shaving and other personal grooming products. Old tech, but Dubin threw a twist at it. (Remember, Zappos changed the tired shoe retailing industry with a low-tech twist on the business model.)
The idea, which turned out to be brilliant, went straight at the heart of a really annoying problem for men who shave daily—the cost of razor blades at your local retailer fits somewhere between the average monthly car payment and two tickets to the hit Broadway play, Hamilton. The darned things are outrageously expensive and the traditional razor blade manufacturers have been minting profits at the expense of men's beards and household budgets for decades. Until Dollar Shave Club rewrote the rules.
For a low monthly fee, the firm ships you your blades (you choose from 3 options as of this writing), and they keep them coming. The offerings have expanded to include shaving cream, hair gels, body washes and yes, even "One Wipe Charlies" (flushable wipes).
Michael and Dollar Shave Club found a way to take burden, cost and annoyance out of an everyday problem for a big chunk of the population. Taking burden away from people is a great starting point for a strategy.
The traditional players: Unilever and P&G had no reason to ever think of this business idea. After all, they had a stranglehold on an allegedly highly profitable category.
Unilever solved their innovation problem by buying Dollar Shave Club. P&G, the other consumer products giant has been playing catch-up with its response via their Gillette brand. P&G's market share has steadily declined, mostly at the expense of Dollar Shave Club.
When asked about this strategic miss, someone described by the WSJ as "familiar with the company's (P&G) thinking," offered, "It was probably on the radar but we weren't necessarily having the right conversation around what might disrupt us."
At Least 5 Big Lessons from Unilever Buying Dollar Shave Club:
Not having the right conversations is potentially fatal to your business in this fast changing world.
Assuming your cash machine of a business model will continue to dispense money indefinitely is naïve.
Someone is looking at your customers and wondering how to remove burden and remove you from the equation.
It's critical to fire up the right conversations and move beyond the myopic view to how you've always done things. The first step involves changing your view.
If all you do is look out the window from the conference room to your parking lot, the view never changes.
The Bottom-Line for Now:
It's time to challenge your team to change the view.

—
Related Posts:
Art of Managing: Change Your Field of View
The Painful Process of Pivoting to New Markets
—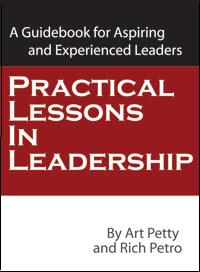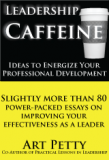 Art Petty is a coach, speaker and workshop presenter focusing on helping professionals and organizations learn to survive and thrive in an era of change. When he is not speaking, Art serves senior executives, business owners and high potential professionals as a coach and strategy advisor. Additionally, Art's books are widely used in leadership development programs. To learn more or discuss a challenge, contact Art.
Leadership Caffeine on Facebook