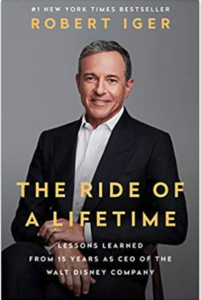 Reading Robert Iger's The Ride of a Lifetime: Lessons Learned from 15 Years as CEO of the Walt Disney Company was truly a joy. Wally Bock concurred, and we go on in this fun discussion to share the many reasons why we both love this book!
The leadership lessons are great. Iger's principles for living are insightful. Yet, Robert Iger the person is who and what both of us came to like and admire in this autobiography. This is an outstanding inside view to someone who has shaped so much of the entertainment landscape in a remarkable fashion while being understated and chronically under-estimated his entire career.
Enjoy the discussion and then plan on adding The Ride of a Lifetime to your leadership reading list!
Check out Wally Bock's detailed review of the book.

Show Highlights:
Art reiterates his love affair with biographies as teaching tools and highlights how much he enjoyed getting to know Bob Iger in this one (1:45)
Wally dittoes my sentiments on biographies and confesses that until reading The Ride of a Lifetime, he didn't know much about Bob Iger and ended up liking him as well (2:40)
High-praise from a book coach: Wally describes Ride as a "Very well written book." (3:15)
More high-praise from Wally: "One of the best leadership books I've read, period. Art concurs! (3:40)
Art shares some highlights from his background research on Bob Iger, including a quote: "No one expected Bob Iger to be Bob Iger."  (4:12)
The book succeeds in part because it doesn't come off as a CEO ego trip (5:50)
Wally relishes catching Art in a mistake (6:30)
The prologue, including Iger's principles and his end of book summary of leadership lessons, are worth the price of the book, according to Wally (7:05)
We come to the same conclusion from different points on the book structure (9:10)
Wally offers: "There's one of those mind-jarring insights in every chapter." (10:24)
Eiger changed the face of the entertainment industry dramatically (11:25)
Wally: "There wasn't a master plan, but rather it was collecting opportunities and seeing linkages." (12:15)
Art suggests there's a book in the content on Iger's partnering and deal-making found here (13:19)
Powerful moments (14:10)
Wally segues into his perspectives on Steve Jobs and then ties it back to Iger's story (15:40)
Art's favorite segment of the book: board games and how the under-estimated Bob Iger ultimately prevailed (17:15)
Wally highlights his favorite takeaway from this book: how Iger blended the best of so many people in his life (18:45)
Art remark's on Iger's notable value on optimism. "Optimism sets a different machine in motion… ." (20:30)
Wally: "This is a nice guy!" (21:20)
Two resounding votes for this as a great read! (22:45)
—
Check out Wally's Goodreads reviews for insights on these and many other books.