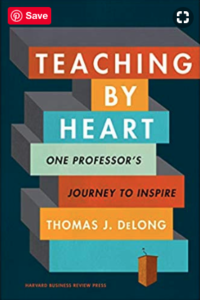 The best leadership book I've encountered in years isn't ostensibly about leading. The book is Teaching by Heart: One Professor's Journey to Inspire, by Thomas J. DeLong at Harvard.
I was initially drawn to the book because of my passion for teaching. I didn't realize I was going to uncover such a great perspective on getting leadership right along the way.
When I picked it up, I did something with this book I rarely do in my life—I read it from cover-to-cover in one sitting. Tom's sheer passion for teaching as a leader in the classroom and his willingness to be vulnerable about his shortcomings kept me turning the pages. I was enthralled by Tom as a person, and captivated by the leadership lessons that jumped out of the pages.
Reading this book from a leadership perspective will change you. Listening to Tom on this fascinating podcast is frosting on this beautiful gift he's given us.

—
(Check out the Show Highlights below)
Show Highlights:
Why teaching is so important to Tom and where it started–from grade school to being a student in Stephen Covey's classroom (3:10)
Why time as a teacher in the classroom is sacred time—and yes it creates pre-class apprehension and tough self-evaluation after class (5:06)
What Tom wishes he would have thought more about during his career (6:08)
Tom connects the role of managing with teaching (7:20)
The most important responsibility you have as a leader (8:40)
A provocative question for leaders at all stages of their lives/careers and what we tend to get wrong (10:00)
Executives: "Do you communicate vertically or horizontally?" (13:45)
The boardroom epiphany that translated to a career-long commitment to teaching and an understanding purpose (15:30)
Your career won't be linear and what it means (17:40)
Six Dimensions of Success as a Teacher and how they fit the world of leadership (18:14) and the three questions you must be crystal clear about in your life.
Tom reads a letter from a student that packs a powerful leadership punch & what he learned from it (19:45)
Why it's always the one negative out of 100 positives that rents the most space in our mind (21:20)
The parallels between preparing for a new course and starting up with a new team and some spectacular leadership insights (24:40)
What the morning before the first session is like and why Tom wants to change professions just for that moment (27:00)
The power of being in "all in" at the moment (28:00)
How Tom knows "when it's working" (29:00)
What happens when you make a mistake with a person. "I took the bait."  Ideas for recovery (32:00)
The lesson for all of us from the Case of Joanna (35:15)
Tom's parting guidance for that manager or leader who truly wants to get it right in their work. Hint: it's not a solo event…you need to get help from others (38:30)
—