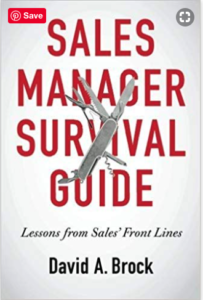 If you are in sales or executive management, this is a must-listen (or watch) podcast! Dave Brock is in my estimation the dean of sales thinkers in our world. He's walked the talk leading global sales teams in technology and now he has his hands and brain in some of the businesses and technologies that are remaking the world.
I talked with Dave just a couple of years ago at the launch of his fabulous book, The Sales Manager Survival Guide and we caught up here to talk about the world of selling in today's turbulent and technology-driven market.
We boiled the ocean from artificial intelligence to Dave's view on the selling challenges in different industries, to the real problems he still sees in getting selling and marketing right. Along the way, you gain some great insights from this fabulous thinker! And, I even extract a possible date from him for his next book, The Sales Executive Survival Guide. I'll be talking with Dave yet again when this much-anticipated book hits the market!
Enjoy this interview and the opportunity to learn from this great professional!

Show Notes
Dave challenges our thinking about the big issues in selling by asking the appropriate question, "What are our customers facing?" (2:15)
Dave makes the case for "turbulence" as the appropriate label for what's happening in our world at a personal, organizational, and customer level. (3:05)
Dave's optimistic view of the outlook for sales and sales professionals if we approach our customers properly. (4:15)
One of the challenges today with all of the turbulence is: "customers don't know how to buy." Here's why. (5:38)
The promise of artificial intelligence (AI) in selling and what people misunderstand about this topic. (7:25)
AI will take over the transactional buying processes (10:35)
The biggest and most sophisticated organizations are still struggling with the challenges of data and analytics (11:45)
Laziness may be a factor in why we are under-utilizing the tools we have at our disposal in sales and marketing. (12:45)
We're not using our systems! Or, our training. There's a half-life to sales training. (15:00)
The issue keeping "astute" sales executives awake at night. Hint: it's about the customer. (16:40)
Culture, talent, and values are the big three issues facing sales management (17:51). "We're not creating workplaces that have the culture, value system, and the talent aligned with the value system that allows us to perform."
"We don't have a salesperson problem, we have a sales leadership problem." (21:26)
Critical thinking and systems thinking as key skills needed for executive management and sales leadership (22:20)
What sales management needs from executive leadership to succeed (24:20)
The problem with "hot product" syndrome (25:10)
The field sales versus insides sales discussion and some of the confusion that surrounds it (28:15)
Art's cat rudely barges in the room (for those watching on the video) (34:15)
Dave's counsel for new sales professionals. Hint: don't become enamored by the technology…focused on the learning (35:15)
Some counterintuitive thoughts: industries where Dave sees the greatest innovation in selling skills: highly commoditized products (37:45)
Feedback after a couple of years of The Sales Manager Survival Guide in the market (41:15)
Dave asks, "Sales manager, what's your job?" And why so many sales managers get it wrong (43:25)
What types of books Dave reads for ideas and inspiration. Hint: it's not sales management books. (45:45)
"Form is defeating substance." (47:15) And, a classic example!
Coming attraction: The Sales Executive Survival Guide and what Dave is focusing on with this project (50:00)
The greatest sales leader Dave has ever known and what she did that made her so successful (52:40)
Dave answers the New York Times Book Review Dinner Party Question (54:45)
—