Wally Bock, the author of the Three Star Leadership blog and an accomplished book writing coach, has been influencing my business book reading list for well over a decade. Wally writes fabulous book reviews—the best in the leadership and management book categories, in my opinion, and I regularly share them with my Leadership Caffeine and Management Excellence audiences.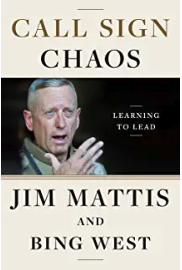 One day in a fit of creativity, it occurred to me that talking with Wally about the books we both read and then sharing our perspectives via a podcast would be great fun and hopefully great material for our audiences. Thus, our show—aptly named Leadership and Management Book Podcast with Wally Bock and Art Petty—was born. First up in what I genuinely hope is a long series of fun podcast book reviews is Call Sign Chaos by Jim Mattis and Bing West.
Here's the quick review: we both enjoyed this book a great deal and found it a valuable leadership read. For the details on what we liked, didn't like, and truly appreciated about Call Sign Chaos, you'll have to listen in on our conversation!
And for those interested in digging in a bit deeper, here's a link to Wally's notes on Goodreads and his full review at the Three Star Leadership blog.

Leadership and Management Book Talk with Wally Bock and Art Petty
Call Sign Chaos Review Show Highlights:
Wally's reminder this book is one person's story: 1:00
Art's pleasant surprise about the scale and scope of the book: 1:56
Wally's view on the main strength of the book (and the three types of leadership Mattis had to learn): 3:26
Wally's ax to grind with the book and its treatment of Marine Corps history: 5:18
One of the key benefits of the book—the Marine Corps reading list: 6:58
The big things that jumped out of the book for business leaders/professionals: 9:14
Why Art loves the concept of "Commander's Intent" (and Wally's history lesson on where this came from.) 10:22
What Wally would ask General Mattis if he could "sit down and have a beer" with him. 12:05
The "trigonometry level of warfare" 14:05
The challenges of navigating civilian oversight: 15:00
Art's favorite section—The Art Of Leading: 17:00
Mattis on strategy: 18:05
Mattis on trust: 19:10
Centralized vision and decentralized management: 19:50
Art translates "Getting inside the enemy's OODA loop" in Chicago vernacular20:49
If you're not additive as a leader, here's what Mattis says you are: 21:30
Who is this book best for? 22:00
Art and Wally argue over how to rate books! 23:20
Final thoughts: 24:20
—