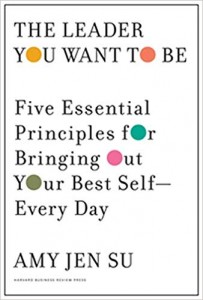 Amy Jen Su's latest book, The Leader You Want to Be—Five Essential Principles for Bringing Out Your Best Self Every Day (release date 10/22/19), is one of the best personal-professional self-development books I've encountered in years. And don't let the title fool you. As Amy and I discuss in this fun, inspiring interview, the concepts and tools she offers in this handbook work for all of us, not just people who lead.
I will save the details for the podcast/videocast. However, be forewarned: Amy's blend of hard-won wisdom as a consultant and coach and her authenticity in sharing her ideas will quickly win you over. Her practical, actionable insights presented in the form of two sides of the same leader and an easy-to-understand (but not simplistic) framework called the Five P's are a gift to all of us.
I love the tools and ideas in The Leader You Want to Be, and I genuinely appreciate Amy Jen Su. (For more information on Amy and the book, visit her site.)
Enjoy!

P.S. If you have a choice, watch the video.
Selected Highlights:
How crashing and burning earlier in her career created the impetus for this book and her desire to help others avoid this fate. (1:49)
What she's hearing from her executive coaching clients about the changes and growing complexity in their work—and why this book is needed. (2:43)
What she means by a period of increasing velocity and ferocity and a great quote from one of Amy's mentors on the challenges leader face in this world. (5:35)
What Amy means when she talks about The Leader You Want to Be as a blend of western thinking and eastern philosophy. (7:40)
Meet Leader A and Leader B (8:40)
The challenge we all face in seeing ourselves at our best (11:15)
Why you have the choice and agency to make a difference at a cultural level in your firm (13:00)
My favorite tip for changing the tone of a struggling team (13:30)
How do we find a sense of purpose in our work and Amy's algorithm for purpose. (14:15)
How to get control of our crazy situations at work (and why we are all authors of our own lives). (17:00)
How to center and anchor yourself for the day in ten or fifteen minutes at the beginning of the day. (18:55)
Meet the Five P's: Purpose, Process, People, Presence, Peace (19:30)
What she means by "presence" and how it involves self-regulation to avoid "scratching the itch." (21:28)
We discuss the use of the word "leader" in the book title and I suggest it should say "person." Amy's response is fabulous! (28:40)
How to get started using the ideas in the book. (30:52)
Why the book is somewhat autobiographical and what Amy learned about herself during the writing process. (31:55)