"Past performance is an indicator of future success." While our financial documents state just the opposite as it relates to investment performance, we run our organizations as if it were a hard fast rule.
In many circumstances, it's a trap.
Any recent job seeker has encountered the "experience trap" in the form of nearly impenetrable recruiting filters and laughably detailed position profiles that would likely weed out most of the senior management and subject experts in these prospective employers.
And if you've worked around and for a firm struggling to exist, you know that the focus is heavily weighted toward tweaking old ways for a new world, often with little success.
How Valuable is Experience when Everything is Changing?
What's the value of experience in a world where the future is unlikely to remotely resemble anything encountered in the past?
The value of personal or organizational experience is not zero, but it is significantly less important than the weighting we give it in our firms and in our hiring practices. It is also less important that a number of key personal and organizational attributes, especially curiosity and a propensity to experiment.
Don't get me wrong. I like experience. I like people with experience. I am a person with a lot of experience. Yet, the primary benefit my experience offers me is the self-confidence to know that I can successfully navigate the new and unexpected.
I also appreciate the rich histories of mature companies. They make for great stories and strong cultures. Yet the value in our histories is not the market and competitive victories from days gone by, it's the evidence that we figured it out and made it work.
We need to do this again without letting our individual and collective experiences serve as a drag on getting to the future. The danger personally or professionally from relying on experience is getting caught in a trap from which there is no easy escape.
Beware the Dominant Logic:
C.K. Prahalad described the idea of the dominant logic of an organization, where common ways of thinking and acting govern decision-making and stifle creativity and attempts at innovation or diversification.
As humans, we develop our own dominant logic based on our experiences. These events carve deep channels in our gray matter forcing us to view every new situation through the filters we know.
When everything changes in a market or technology, businesses die due to an overdose of dominant logic. The same goes for careers.
4 Big New Challenges:
The challenge for anyone in business today, from senior leaders to knowledge workers is to shift the weighting from what we've done to what we might do. The emphasis must move from what we know to what we need to know.
The most important value of today's firm is: "We thrive on experimentation driven by an insatiable curiosity."
The most important leadership challenge is to bring this value to life.
The most important hiring characteristics become insatiable curiosity with a confidence to take on the unexpected and find a way forward.
The most important management challenge is to find ways to break the old operating models and bring new ideas to life to solve problems and reap rewards from grateful customers.
The Bottom-Line for Now:
The new value of experience is not focused on the mechanical or functional work of the past. Rather, it's on cultivating the self-confidence and skills necessary to survive and thrive in periods of change while helping our coworkers and firms do the same.

—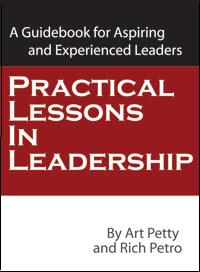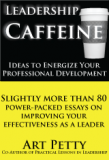 Art Petty is a coach, speaker and workshop presenter focusing on helping professionals and organizations learn to survive and thrive in an era of change. When he is not speaking, Art serves senior executives, business owners and high potential professionals as a coach and strategy advisor. Additionally, Art's books are widely used in leadership development programs. To learn more or discuss a challenge, contact Art.
Leadership Caffeine on Facebook