I continue to be slightly amazed and always humbled at the reception to my book/article collection, "Leadership Caffeine: Ideas to Energize Your Professional Development."
Today is the sixth anniversary of the publication this work, and the content on navigating change, uncertainty and developing and supporting great professionals and great teams is arguably more relevant today than ever before. The fact that groups from law enforcement, municipal government, not-for-profits and dozens of commercial enterprises use it as part of their leadership development programs is the humbling part!
I was asked at a keynote recently where the idea for this collection of my articles came from, and for the first time ever, I share the secret!
I am also thankful for my great friend Wally Bock who initially advised me against the format of this book and then updated his advice in "Book Writing Lessons from Leadership Caffeine." 
3 Special Offers to Celebrate the Leadership Caffeine Anniversary
1. 5 Free Copies of Leadership Caffeine! 
(Note: I am thrilled to be sending out 5 copies to some great professionals. This promotion is concluded, however, #'s 2 and 3 are still open!)
In celebration of the anniversary of the publication of Leadership Caffeine, I am giving away one free book to the first 5 respondents (in the continental U.S.). Simply drop me a note indicating that you would like a copy and I will be happy to get one in the mail to you. (After the first 5 are gone, the offer concludes.)
2. Free Books to Jump-start your Leadership Discussion Group with Leadership Caffeine:
For the first respondent via e-mail who indicates he/she is starting a leadership discussion group at work and would like to use Leadership Caffeine as a resource, I will provide up to 5 copies at no charge. As an added bonus, I will be happy to join one session live for 30 minutes via telephone to field questions from your team. (Continental U.S. only.)
3. Arm your keynote/workshop audience with up to 100 free copies!
Book a keynote or workshop program with me before September 30, 2016 and receive up to 100 copies of the book free for your audience. (Note, this offer valid for organizations in the continental U.S. only, and subject to our mutual agreement on a speaking/program fee including travel expenses.) Drop me a note and we will set up a time to discuss your program needs.
Next! Coming Attraction: Leadership Caffeine for Project Managers
Inspired by my incredible MBA students in my project management course at DePaul University and the many audiences for my keynotes on project leadership, I am thrilled to pre-announce the forthcoming book, "Leadership Caffeine for Project Managers."
This collection of articles focus on the issues and skills and behaviors that drive great performance with our project initiatives. The collection features 31 articles focused on the topics that keep project managers (or anyone who is leading a team/committee/group initiative) awake at night. The first edition will be an e-copy only, compatible with ibooks, Kindle, Nook or in pdf format. 
As in all of my management and leadership writing, every article offers ideas, insights and suggestions to help you strengthen performance in the workplace.
Look for more information on the planned September, 2016 release of this new work!

—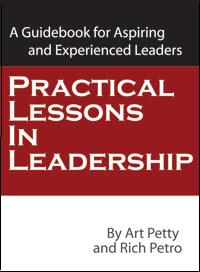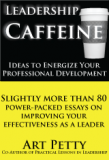 Art Petty is a coach, speaker and workshop presenter focusing on helping professionals and organizations learn to survive and thrive in an era of change. When he is not speaking, Art serves senior executives, business owners and high potential professionals as a coach and strategy advisor. Additionally, Art's books are widely used in leadership development programs. To learn more or discuss a challenge, contact Art.
Leadership Caffeine on Facebook