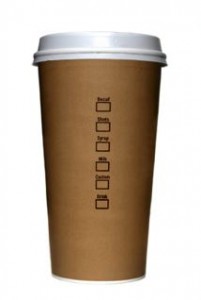 The Leadership Caffeine series is approaching 200 installments strong and is dedicated to every aspiring or experienced leader seeking ideas, insights or just a jolt of energy to keep pushing forward. Thanks for being along for the journey! 
—
I've written about this topic on numerous occasions. It merits repeating.
The major "people mistakes" of my career have occurred as a result of investing too much time and effort with the wrong people.
If I could have all of the time back working with poor performers, people in dire need of an attitude adjustment or, people who momentarily fooled naive, noble me into believing they wanted to change their ways, I would gladly reinvest it with those seeking to grow and strengthen as professionals.
Early in my career, I believed that I could by sheer force of will turn poor performers into stars and help those with poor attitudes emerge as model citizens. I believed I possessed the leader's equivalent of the Philosopher's Stone and could turn lead into gold.

I was wrong.

As leaders, we can and should facilitate change. We must provide clear, cogent and timely performance feedback to promote change. And we must help people who want to help themselves.
For those who ignore the feedback or repeatedly break their commitments to progress with change, our only obligation is to politely and professionally and with all expedience, help them out the door.
Too Much Time with the Wrong People:
I run a (true) case in my management courses involving a talented, but mercurial individual who after several years (yes, years) of coaching, training, disciplining, imploring and anything else that I could think of to strengthen his inter-personal skills, simply flamed out and disappeared. It was spontaneous human personnel combustion. As it turns out, I fueled this final act of combustion with my belief that his skills and contributions (he was supremely gifted and a direct contributor to our success) outweighed the reality that he would genuinely piss people and teams off to the boiling point.
The majority of groups who review this case focus on rationalizing the individual's behavior against his contributions. Many cite the example of Steve Jobs. I suppose that's always a risk…pushing Steve Jobs out the door. However, short of the one or two people every 100 years who will profoundly change the world, no one is worth sacrificing your leadership integrity and the team and culture for in the process.
I was noble and stupid.
In another situation, I spent another several years (yes there's that "Y" word again…I'm clearly a slow learner) helping this individual expand her skill-set through job rotation and preaching.  It was never coaching, because she didn't want any part of it.
She had a fierce sense of entitlement over being in charge of a group based on her seniority, yet to me, her skill-set was too narrow and her impact on others was typically negative.  She showed no signs of leadership or managerial capabilities.  Regardless, I counseled, coached and provided developmental experiences.  When I finally had a promotion to offer, I awarded it to the most deserving candidate. It wasn't her.
In response to not gaining the promotion, this delightful individual left the company with no indication.  She just never showed up again.  A few weeks later, I was summoned to the CEO's office where I was presented with a document indicating her lawsuit.  It was dismissed as frivolous.
Noble and stupid one more time.
The Bottom-line for Now:
Give me a person who genuinely wants to grow, and I'll move mountains to help him or her advance.  Give me someone who feels entitled to a promotion, or, who engages in repeated aberrant behavior in spite of feedback and counseling, and I'll move mountains to move them out.
Invest like crazy in those who want to grow and develop.  Just don't spend too much time with the wrong people. There's no leader's equivalent of the Philosopher's Stone for people who don't want to change.
—
More Professional Development Reads from Art Petty: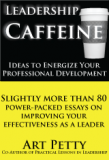 Don't miss the next Leadership Caffeine-Newsletter! Register here
For more ideas on professional development-one sound bite at a time, check out Art's latest book: Leadership Caffeine-Ideas to Energize Your Professional Development.
Order one or both books for your team. Contact Art.
New to leading or responsible for first time leader's on your team? Subscribe to Art's New Leader's e-News.