Overheard in an Office Near You:
First person: "Hey, the trash can is on fire."
Second person: "Yep, that looks bad. It could spread."
Third person: "Someone should put that fire out."
First person: "I told them not to put the trash can over there. I saw this coming."
Second person: "I wasn't invited to the meeting…not sure who made that decision, but they should be fired."
Third person: "Clearly someone screwed up."
First person: "Well, I've got to get back to work. Hope that fire burns out."
Second person: "I'm late for a meeting. Let me know if we need to evacuate."
Third person: "Wonder if we should call someone."
—
Chances are that no one would truly ignore the fire in the trash can, however, some organizations seem to perpetuate a culture that generates talk and hand wringing and teeth gnashing on issues, but little constructive action.
Poor senior leadership is always the root cause, and while most of us can't impact a change at that level, we can rally our troops to build a bucket brigade and solve most of those flare-ups without asking permission.
The Bottom-Line for Now:
Don't let a lousy senior leader stifle your propensity to act. While you might take some heat  for your initiative, it's better than the heat from 1,000 little fires slowly baking you and your team to a point of indecision and inactivity. And while you're at it, don't spend much time working for a boss like that if you can help it.
—
Don't miss the next Leadership Caffeine-Newsletter! Register here
For more ideas on professional development-one sound bite at a time, check our Art's latest book: Leadership Caffeine-Ideas to Ene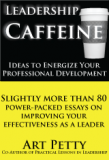 rgize Your Professional Development. 
Download a free excerpt of Leadership Caffeine (the book) at Art's facebook page.
New to leading or responsible for first time leader's on your team? Subscribe to Art's New Leader's e-News.
An ideal book for anyone starting our in leadership: Practical Lessons in Leadership by Art Petty and Rich Petro.
Need help with Feedback? Art's new online program: Learning to Master Feedback