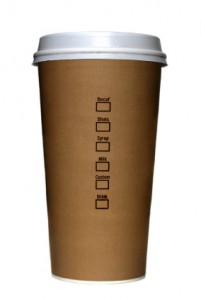 I've had more than a few professionals who approached my course on leadership with trepidation and even outright cynicism. I'm pretty convinced the trepidation was over the topic and not the instructor!
"Another damned course on leadership," was the way one of my eventual favorite students (and converts) described his expectations for our time together.  I frankly don't fault him for his early cynicism. After all, what can anyone learn in a classroom setting that isn't better taught on the firing lines of learning by actively leading?
And while I don't profess to have cracked the code on running the world's greatest leadership course (although it may be the world's most enthusiastic and passionate!), I do know that every experienced leader leaves having accomplished two key items:
1. By their active involvement, they end up stepping back and developing a clearer view to the leader they've become.
2. Almost to a person, they leave with new resolve and some ideas for resuming their walk down the path towards the leader they always wanted to become.
While I would like to credit deft facilitation, provocative questioning, engaging discussions and exposure to a broad array of leadership ideas and approaches from business, history and our personal lives as the source of renewal, in reality, most of the reset comes from people simply taking the time to reflect.
Reflection time, finding time to think deeply about our personal and professional selves is rare in our fast paced work and personal lives. Most workplaces operate on the clock of perpetual crisis and calendar of urgent and questionably important, leaving little time to step-back and reflect on what it is we're doing and where we are at in comparison to where our internal values meter tells us we should be.
The professionals in my courses who do stop to self-evaluate and think about pursuing better alignment of their values with their leadership behaviors are the ones who I hear from several years beyond the course describing our experience together as a pivotal point for helping them advance. Again, it's not me that is the subject…it is the fact that these individuals took the time to re-examine the role of a leader as they always envisioned it and compared it to the leader they've become, that drives them to the next level. The clear view to their dissonant behaviors and their ideal leader-self propels the drive to improve.
5 Ideas To Help You Reboot Your Drive to Excel as a Leader:
1. Strengthen your view on your role as a leader. Revisit your leadership foundation. Take the time to think through, remember and describe the role of a leader in relevant but aspirational terms. I do this through my Leader's Charter and I encourage others to develop and place their own Charter in a place where it will serve as a daily reminder to where there priorities are best placed.
2. Read widely about leaders outside of the world of business. Armed with the lens of history and the benefit of time and widespread scrutiny, we stand to learn much more about overcoming challenges and motivating and inspiring people from historical figures than we do from those writing self-serving biographies about their corporate triumphs. Let Churchill, Lincoln, Gandhi, the Roosevelts, Alexander and so many other figures from history serve as your guides.
3. Be honest with yourself. Most people in leadership roles understand at some level that they should be delivering feedback, clarifying goals, connecting goals to strategies and supporting and creating opportunities for professional development. They get that reviews are important and coaching is essential. They also understand when they take the time to think about it that they are likely falling woefully short in living up to all of those practices in their daily endeavors.  Use this sense of dissonance as fuel to improve.
4. Seek coaching and start becoming a magnet for constructive feedback on your own practices. Whether it's an external coach, a trusted peer, a particularly strong manager or yes, even your own team members, ask for help in strengthening your leadership practices. Let the Charter be your guide to priorities…let others help you understand whether you are living up to the practices inherent in your charter.
One manager I worked with sat down with her team and indicated her desire to improve. She identified where she thought she could do better and asked for help from her team members in gauging her effectiveness with her priorities. A few of her team members were hesitant or cynical at first, but as she worked on strengthening her performance, all of them become active stakeholders and beneficiaries in the process.
5. Find or create forums to talk about leadership and leading with others who share the same interest in getting it right and in improving their performances. Create your own Leadership Mastermind group or Leadership Reading group. Build this into your regimen and you'll be creating that valuable time to think deeply and importantly, learn from others.
The Bottom-Line for Now:
We're quick to blame our environment, our managers or our situations for sub-optimizing in our own roles. That's a cop-out every time. Growth like every other process of change starts with the recognition that you own the problem and control the solution. Taking time to reflect and re-examine your role and performance as a leader offers nothing but growth opportunities for yourself and for those who look to you to lead.
—
Don't miss the next Leadership Caffeine-Newsletter! Register here
For more ideas on professional development-one sound bite at a time, check our Art's latest book: Leadership Caffeine-Ideas to Ene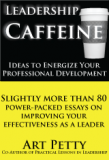 rgize Your Professional Development. 
Download a free excerpt of Leadership Caffeine (the book) at Art's facebook page.
New to leading or responsible for first time leader's on your team? Subscribe to Art's New Leader's e-News.
An ideal book for anyone starting our in leadership: Practical Lessons in Leadership by Art Petty and Rich Petro.
Need help with Feedback? Art's new online program: Learning to Master Feedback