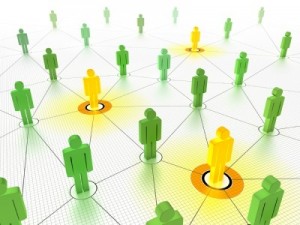 Regular readers know my perspective on those who lead without authority. I'm a huge fan. These are the people who turn good businesses great and who power teams with the kinetic energy created by their constant motion.
Great product managers, strong project leaders and anyone else regardless of title, who takes on accountability for results without the traditional formal authority (hire, review, promote/fire authority), are worth twice their weight in platinum.
While executives meet and do what it is that executives do, Integrator Leaders view it as their inalienable right to bend the internal structure to meet their needs for initiative achievement. Instead of viewing departmental boundaries as limits, they view them as deep pools of know-how and prospective resources.
The best I've known manage their executives by garnering support for funding, resources and prioritization, and then delivering results. They understand the language of strategy and growth and innovation, but mostly they understand the language of motivation. Without the burden of formal authority, they are free to engage with talented colleagues and leaders in all areas of an organization, building support and coalitions, and focusing these resources on doing something new, big or both.
Oddly, much of what passes for traditional approaches to managing is seemingly at cross-purposes with supporting Integrator Leaders. The pursuit of "control" in management and misguided measurement in the form of inappropriate silo-based performance indicators often serve to fight the emergence of a culture that leverages these Integrator Leaders.
While an organization filled with Integrator Leaders all chasing their own agendas, regardless of how well they align with the big picture strategies and goals, sounds a bit like chaos, fortunately, not every person will gravitate to the role of Integrator Leader.
For managers and executives who do have one or more of these priceless professionals on their teams, you will be well-served to point the Integrator Leaders in the right direction, loosen the silo and measurement controls and focus on supporting and monitoring instead of controlling or reining in.
Oh, did I mention that Integrator Leaders are just what the management doctor ordered in a world where the need for speed and the pursuit of learning and adaptation are all table-stakes for organizational survival and success>
What are you doing to support the emergence of Integrator Leaders in your organization?
—
Don't miss the next Leadership Caffeine-Newsletter! Register here.
For more ideas on professional development-one sound bite at a time, check our Art's latest collection: Leadership Caffeine-Ideas to Energize Your Professional Development. 
Download a free excerpt of Leadership Caffeine (the book) at Art's facebook page.
New to leading or responsible for first time leader's on your team? Subscribe to Art' New Leader's e-News.
To talk about a workshop or speaking need, contact Art at via e-mail at [email protected]