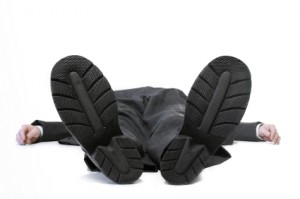 A bit tongue-in-cheek laced with a great deal of hyperbole, fueled by a strong sense of outrage and hopefully, blended with a dash of cynical humor.

I spend approximately 94% of my productive time doing battle with some firm or another over their pricing and promotion programs. While decorum precludes me (for now) from sharing names, you know them as cable providers, internet providers, cellular carriers, satellite radio firms (oops, only one of those out there), publishing firms and every other firm who is staffed by evil pricing practitioners bent on creating ever more nefarious and diabolical schemes to ensnare, entrap and consume all discretionary income and most life savings.
In some unscientific polling, 105% of the people I know (math is not my strong suit) have at one time or another in the last three days been ensnared in some form of pricing program that promised the moon and the stars for a song and ended up delivering Jersey Girls or dropped calls or 146,000 radio channels all playing three Rolling Stones songs.
The websites and systems are brilliantly designed to simplify sign-up, contracting and installation. However, as D-Day approaches with the end of the promotion period, and the $89 monthly fee is scheduled to elevate to something that looks the U.S. monthly interest payment on the national debt, should you want to cancel, you are required to go on a search rivaling the hunt for the fabled Lost City of Z deep in the Amazon. In case you don't know the story, no one has ever found it and no one has ever come back.
The statistic the U.S. Department of Labor does not share with us (according to my unnamed source) is that 50% of all unemployed Americans remain that way because they have been on the phone for 7 months or more to (insert foreign country name) either trying to cancel their contract or collect on that big inheritance promised by their new best friend via e-mail in (insert next favorite e-mail country of origin name).
The upside of all of this is that I've developed deep relationships with people named Ralph and Ann and Bob who strangely all speak with thick accents and don't sound at all like a Ralph, Ann or Bob. We now exchange birthday cards
And while I suspect I'm exaggerating just a bit, this modern world seems to be characterized by firms and marketers who missed the memo on building trust with their customers, and who instead insist on treating us both like lemmings and then making us miserable when trying to unwind our obligations according to our legal and contracted rights.
This situation is extended indefinitely in what can only be the second worst pricing idea (after the low-low start up), and that is the infamous customer retention program. "Stay with us and we'll reduce your payment from the size of the interest on the U.S. debt to $89 for 6 months."  OK, and then what? "You'll have to do this all over again, of course."
The Bottom-Line for Now:
The tactics are insulting. The retention programs are insane. And the hard to access, poor quality, unintelligible and truly maddening overseas customer support is just revolting. Great way to treat your customers. Now, I've got to take a time-out…I just received a pop-up ad promoting a new pop-up blocker that I can use for free for 3 months if I commit to a year at the normal rate. Sounds good…wonder who I'll meet on the support line this time!