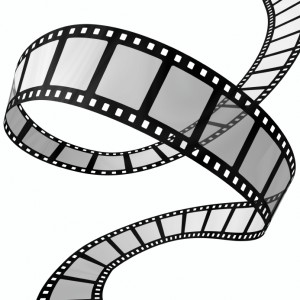 Note from Art: Whether you work inside the walls of a corporation or you make your office wherever you can grab a good connection and a great cup of coffee, chances are that you will come face-to-face with the need to appear on camera at some point in time. For many of us, the thought isn't exactly a welcome one.

I had my first video encounter to promote the launch of my essay collection, Leadership Caffeine-Ideas to Energize Your Professional Development, and while painful, in the end after the self-induced stress wore off and the almost-expletives cleared the air and I had regained my ability to say, "action-packed" versus the now classic line captured as "action-paction," it was fun and I believe beneficial. So much so, that I've agreed to start a monthly videocast.
I'm not alone in my video-phobia, and in comparing notes with many of my colleagues, it seems we all struggle with the same issues. We also agree that the benefits of building a video presence strongly outweigh any of the personal reasons for avoiding this. To support our efforts, I encouraged Amber Wallor and Edgar Mourans, the two pros behind Left Hand Marketing and the drive to help small business owners and even hapless actors like me build a video presence, to offer us some guidance.
Like everything else these two great people do, they went above and beyond the call of duty, offering a free e-book filled with tips and brief video clip to show that they are willing to face the camera as well! Use their advice wisely, and of course don't be bashful in reaching out to them for help. Did I mention they are entrepreneurs! Enjoy the resources and good luck in your small screen careers!
—
What causes you to freeze up, mispronounce words, suffer from memory loss, and blabber senselessly about ideas that are normally second nature to you while watching your every move? A video camera!
We are passionate about the effectiveness of video marketing. Video is a powerful tool for businesses and individuals looking to gain an edge against competitors.
Video allows you to showcase what differentiates you while giving people the feeling that they already know you before ever doing business with you. It goes with the old cliché, people like doing business with people they know, like and trust. More so, video brings increased exposure and higher search results. YouTube is owned by Google and is one of the largest search engines; so naturally, Google favors websites with video in its search results. In fact, videos are 53 times more likely than traditional websites to receive a first-page ranking on Google.
Nevertheless, being on camera is easier said than done. We haven't had one client who hasn't feared being recorded. For the majority of people, being in front of the camera is quite an unpleasant feeling to say the least. It's like hating the sound of your own voice but ten times worse!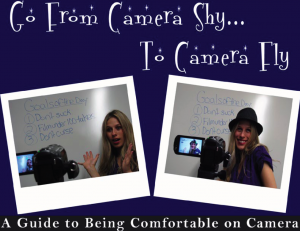 Here's Some Help:
To help you with overcoming that fear, we have been inspired to create a mini e-book (and we had fun creating the pictures on the cover) that will guide you in the right direction.
Watch your confidence grow with our list of helpful tips on preparing yourself when it's time for the lights, camera, and action (or "action-paction" as Art has been known to say)!
It's truly an amazing sight to watch our clients transform through the camera lens, some even begin to enjoy being on camera! If you find other things that work for you, we'd love to hear from you and add them to future revisions of our e-book.
P.S. We'd like to thank Art for being so great to work with and for being a good sport about action-paction!
In writing a post on the importance of video, we couldn't pass up the opportunity to release a video of our own about the e-book. Hey, we can all use the practice!