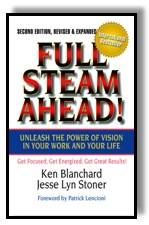 I had the pleasure to connect on the phone with Jesse Lyn Stoner, co-author with Ken Blanchard of Full Steam Ahead-Unleash the Power of Vision in Your Work and Your Life (second edition), and this podcast is the output.
I like the book a great deal…and as I indicate in my intro comments, I tend to approach books on Vision with a bit of trepidation. Not only did Jesse and Ken quickly assuage my concerns that this might be another challenging walk through the V topic, but they had me turning the pages and truly loving both the story-line and the power and simplicity of their approach to this important but often abstract topic.
Full Steam Ahead truly helps bring the topic of vision to life for all of us on a professional and a personal level.
As an aside, some interviews flow and some are just a bit awkward.  Talking with Jesse was a delight for so many reasons.  Her energy, clarity and obvious deep practical knowledge and thoughtfulness on the subject matter, made this a true pleasure.  I hope you enjoy the discussion about with Jesse as much as I did!
[display_podcast]
Note: My copy of Full Steam Ahead was provided by Jesse. Unlike many books that I receive, this one has earned a permanent place on my business bookshelf.