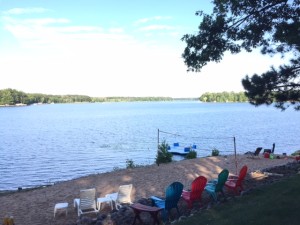 Every week I share a few ideas to help you finish strong. A great ending sets the stage for success next week.
—
The Truth is In the Field: Invite a Salesperson to Your Team Meeting
If you and your team operate somewhere other than the sales department, it's easy to lose track of the realities of competing for business in your market. Gain some critical context for what customers are looking for and for what competitors are doing to try and keep food off your table by inviting one of your firm's sales representatives to offer the latest market insights. This valuable external perspective helps everyone better connect to the reality that the firm is in business to acquire and keep customers and that everyone's job is to support this effort. Kudos if you and your team identify an opportunity to better support the sales effort as part of this dialog.
Change Up Your Routine Today to Spark Fresh Energy
Many of us naturally gravitate towards a predictable, consistent routine in our work days. While there's comfort in routine, in my experience, too much consistency lulls us into a semi-robotic state. Today, shake things up. Politely bow out of a few of those all too common Friday status update meetings and do something different. Take your team out for a long lunch and talk about what's working and what needs to be strengthened. Catch up on professional development discussions. Leverage my idea above and invite a sales representative or three to share some market updates with your team. Find time to catch and talk with your boss and better align with his/her challenges and priorities. And most of all, enjoy a shift in routine as you wind down your week. It's healthy to mix things up and you'll leave excited to get back at it next week.
Take Time to Sketch Out Your Plan for the Next Month:
What two or three major objectives do you and your team need to complete in the next 30-days to make August a success? Take the time to refresh on where you are at with key initiatives and what you can do to better align resources with priorities. It's too easy to let these months slide by with less than stellar progress on the activities that count. The urgent and urgent-unimportant get in the way of the bigger initiatives that require focused effort. Pull your core team members together for this discussion and write the plan and plan to stick to it.
—
That's it for this week. Enjoy these fleeting Summer weekends and come back next week prepared to conquer the world! -Art
—
Don't miss the next Leadership Caffeine-Newsletter! (All new subscriber-only content!) Register here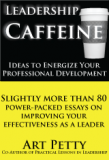 For more ideas on professional development-one sound bite at a time, check out: Leadership Caffeine-Ideas to Energize Your Professional Development.
New to leading or responsible for first time leaders on your team? Subscribe to Art's New Leader's e-News.
An ideal book for anyone starting out in leadership: Practical Lessons in Leadership by Art Petty and Rich Petro.