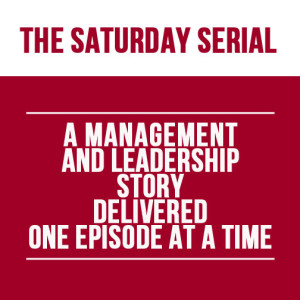 A note from Art:
I've long believed serials are great ways to share stories. Dickens published many of his works in serial format and the dockworkers were reputed to shout from the shore as ships arrived with the latest installment of The Old Curiosity Shop, "Did little Nell live?" The Golden Age of Science Fiction was filled with stories told one chapter at a time from issue-to-issue and today's Game of Thrones novels from George R.R. Martin are an excellent example of the serial on steroids, with fans (myself included) waiting impatiently to learn the fate of our favorite characters and hoping that Mr. Martin finishes the story. Who lives? Who dies? Who conquers?
Serials provide readers an opportunity to become invested in a story and the characters, and I believe the approach provides authors an opportunity to think and then create new twists and new approaches to challenge the characters and further engage the readers. As a child and teen I was addicted to the Encyclopedia Brown Mysteries because I appreciated the characters and I loved the ability to try and solve the cases. I've added that twist here in the form of discussion questions and I look forward to sharing my ideas and learning how readers might solve these business cases.
Welcome to my intent and attempt to share and cultivate management and leadership lessons beyond the format of a stale blog post and endless lists of "10 ideas to… ." While I love writing the Management Excellence blog and the first 1,025 posts are testament to my commitment, I've wanted to experiment with the serial and management fable format here for a long time. I'm emboldened by the reader appreciation for the short, fictional cases around my mythical APEX Corporation, inserted in front of the chapters in my book with Rich Petro, Practical Lessons in Leadership. Those mini-cases and their discussion questions and the author's take on the cases have been a staple of this book and something many managers have leveraged to stimulate thinking around the issues we all face in growing as leaders. I'm grateful for the appreciation many of you have expressed for those cases.
Lencioni and Goldratt popularized the novelized or fable form of business lessons in their various writings and I understand that some of you love those and others don't. For those who prefer their business and leadership lessons and questions with a taste of drama, The Saturday Serial is ideal for you.
Beginning with my first episode, "Welcome to ACME John Anderson," you will meet a growing cast of characters facing a series of very real management, leadership and career challenges in this fictional high-tech, global conglomerate and its various units and divisions.
Yes, the issues are real. I see them every day and I've experienced and observed these dilemmas around strategy and execution and learning to lead and learning to manage in many flavors  for 30-years. And while the characters and firms are all fictional, I will wager a fair amount, you will recognize these issues and challenges…and many of you will be dealing with them in real time. Now, you get to see and hear them unfold here in this on-going series of stories and cases, and hopefully, we'll all engage in sharing some ideas on how to navigate the challenges. After all, the intent of my work and this entire blog is to help those striving to grow their firms and grow in their careers find useful and creative ideas and answers to the vexing challenges we all face during our journeys.
Welcome to The Saturday Serial at Management Excellence I hope you'll tune in and chime in as the story develops. After all, the beauty of this format is that you can help determine the outcomes. -Art
Check out Episode Number 1.
—
 All characters and firms are fictional and any resemblance to any person or any firm is purely coincidental. The Saturday Serial is a copyright (2015) of Art Petty, The Art Petty Group and The Management Excellence Blog.