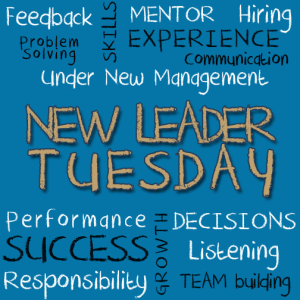 Feedback is a powerful leadership tool for promoting high performance, and too many new or early career leaders don't receive training or guidance on how to conduct these discussions. Over a series of posts, I'm offering guidance and tools to help any manager, new or experienced improve the quality of his/her feedback discussions.
Part one of The Feedback Series  focused on helping recognize and navigate the emotions and fears that keep many managers from engaging in timely and clear feedback discussions.
Remember: feedback is about strengthening positive behaviors that support high performance and changing or eliminating negative behaviors that detract from performance. The purpose of every feedback discussion is to promote behavioral change or strengthening. 
—
While feedback is best served warm (as close to the behavioral occurrence as possible), a few quality minutes of proper preparation will dramatically improve both your confidence for engaging in the discussion and your ability to conduct a high quality discussion.
An important first step after observing the positive or negative behavior is to develop an understanding of the nature of the situation and to assess the right approach to support the behavioral improvement. In essence, you are classifying the behavior and selecting a general course of action even before you utter your first word to the feedback receiver.
From the school of a picture is worth 1000 words, consider the following simple 4-box matrix contributed by my co-author, Rich Petro, when we collaborated on our book, Practical Lessons in Leadership.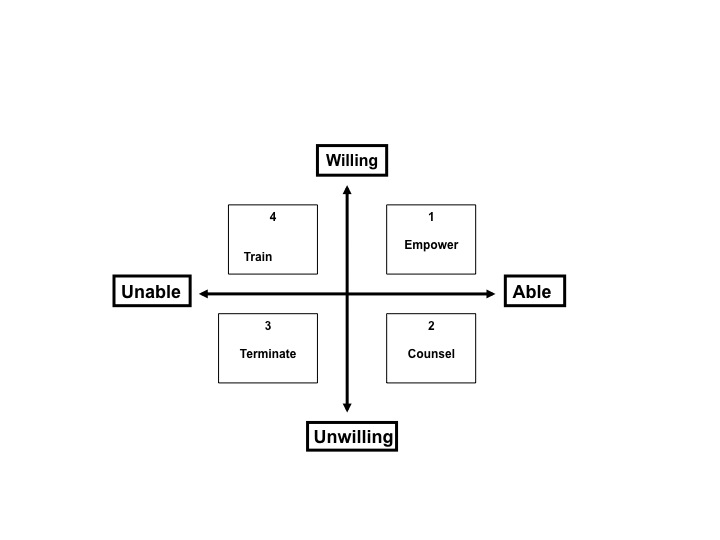 Rich proposed two axes: able to unable and willing to unwilling and identified 4 distinct directions depending upon where the situation falls within the matrix: empower, train, counsel or terminate.
Different situations merit different treatments. An otherwise solid employee struggling with a particular task or technology and generating mistakes due to his or her lack of understanding merits training, not criticism. Another highly capable employee expressing interest in taking on new challenges should be empowered to move forward and perhaps supported by a mentor.
In a more challenging situation, you might find a capable employee unwilling or uninterested in completing a particular part of their work. The direction of the discussion is distinctly different from our train or empower scenarios above.
While life and work behaviors don't always fit neatly into the consultant's 4-box, many readers and workshop participants have found this to be a handy compass in planning their discussions and importantly, selecting a desired direction to pursue behavioral change or strengthening. Use it as a guide, not as the magical answer key.
The Bottom-Line for Now:
Start your feedback discussions with the end in mind and design the discussion and actions to get you there. Proper design, a clear end goal and a method to get there are critical items to consider in planning to deliver a quality feedback discussion.
Up next in Part 3: Understanding the critical ingredients in every effective feedback discussion.
—
Comments on the Self-Study Suggestions in Part 1 of this Series:
With literally thousands of examples via workshops and reader comments to draw upon, the characteristics of good feedback experiences and lousy feedback experiences are frighteningly consistent from person to person.
Characteristics of Effective Feedback Discussions:
Discussions where people describe receiving useful feedback (positive or constructive) are typically: clear, timely, focused on a behavior, conducted as true discussions not monologues, and they incorporate joint development of next steps and subsequent plans for evaluation. The receivers walk away from these discussions understanding what they did right or wrong and clear on their accountability for changing or strengthening. They don't feel indicted and they do understand the impact of their behavior on their team members or the business. Most importantly, they perceive they were dealt with respectfully.
Characteristics of Ineffective Feedback Discussions:
Flip everything around from the above paragraph for those discussions where people perceive the feedback was useless or presented in a less than respectful manner. Vague inferences, innuendo, finger pointing and one-sided demands delivered in bitch sessions tend to characterize many of our worst feedback situations. In other less aggressive but still ineffective discussions, the feedback is so heavily sugar-coated, likely because the giver is uncomfortable with the discussion, that the intent is lost or buried and the receiver leaves the discussion confused.
Self-Study Suggestions from Part 2:
Strive immediately to mirror as many of the characteristics of effective feedback discussions described above and prior to engaging in feedback discussions, use the matrix to assess direction for the behavioral changes.
—
More Professional Development Reads from Art Petty: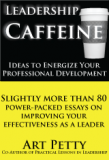 Don't miss the next Leadership Caffeine-Newsletter! Register here
For more ideas on professional development-one sound bite at a time, check out Art's latest book: Leadership Caffeine-Ideas to Energize Your Professional Development.
New to leading or responsible for first time leader's on your team? Subscribe to Art's New Leader's e-News.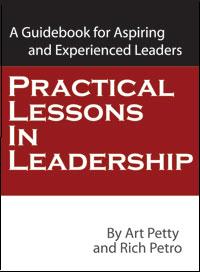 An ideal book for anyone starting out in leadership: Practical Lessons in Leadership by Art Petty and Rich Petro.