In Monday's Leadership Caffeine post, I strongly encouraged senior managers to accelerate the pace of their leadership development activities for their high potentials. Today, it's your turn.
Quit waiting for the boss to bestow the mantle of leadership responsibility on you. It's time for you to seek out opportunities that help you cultivate the critical communication, motivation and decision-making skills so critical to your development as a leader.
5 Ideas to Gain Leadership Experience Before the Title:
1. Volunteer to Lead Something. Anything. Seriously, whether it's the planning committee for the holiday party or Summer picnic or an initiative that's on the boss's wish list, jump in with both feet and learn what it's like to bring a project in on time, under budget and with great results.
2. Interview the Firm's Leaders about their Leadership Experiences.  I enjoyed watching a newly minted college graduate who was set on quickly moving into a supervisory role, navigate her way through a series of interviews with the firm's senior leaders. Her enthusiasm, great questions and interest in the challenges and experiences of people in positions of authority left a great  impression that certainly kept her front-of-mind for one of the next promotions.
3. Make a Project Manager a Mentor. This often under-appreciated role is filled with great professionals who achieve miracles with little direct authority over their resources. They build trust, motivate people who don't work for them and facilitate the art and science of delivering initiatives. Shadow, observe and soak up the lessons!
4. Step into Sticky Situations on Your Team. I make it a habit of looking for those individuals who display the ability to bring calm and focus and who can promote progress in situations where everyone else is flailing or panicking. Be that person and you'll be noticed.
5. Strive to Be a Great Follower. While perhaps counter-intuitive, striving to be a great follower for your boss helps you strengthen your understanding of the role of the leader. Personally, professionally and politically, it's a great way to build your reputation and gain trust from your boss.
The Bottom-Line for Now:
While I'll work on prodding the boss along to create and implement an aggressive leadership development program to help you make that move into a role responsible for others, don't wait for either of us. You own your career and you own your professional development. Set a brisk pace based on a deliberate plan of action and keep moving forward.
—
More Professional Development Reads from Art Petty: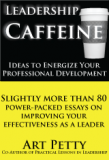 Don't miss the next Leadership Caffeine-Newsletter! Register here
For more ideas on professional development-one sound bite at a time, check out Art's latest book: Leadership Caffeine-Ideas to Energize Your Professional Development.
New to leading or responsible for first time leader's on your team? Subscribe to Art's New Leader's e-News.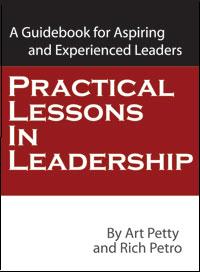 An ideal book for anyone starting out in leadership: Practical Lessons in Leadership by Art Petty and Rich Petro.