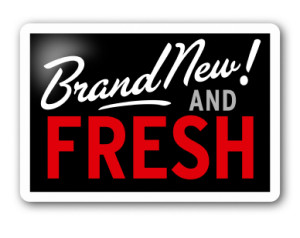 The New Leader's Series here at Management Excellence, is dedicated to the proposition that one of the most valuable things we can do is support the development of the next generation of leaders on our teams and in our organizations.
The best leaders I've worked with and for are not only good decision-makers, they are effective decision-coaches. They understand the importance of teaching their teams how how to navigate the pitfalls and complexities of decision-making in pursuit of the best results for the organization.
6 Great Habits of Effective Decision Coaches:
1. They Defuse Emotionally Charged Situations. Of all of the decision-traps in the workplace, the tendency to approach a tough situation with a strong sense of emotion is a very human issue. Good decision-coaches create opportunities for team members to vent…and then they focus their energies on situation assessment, information needs and options development.
2. They Strike Out Fear. While closely related to number 1, the issue of fear in the workplace merits specific attention. Two late great thinkers, Frank Herbert (Dune) and W. Edwards Deming had it right. Herbert's, "Fear is the mind killer" said it best, and Deming's plea for managers to strike out fear in the workplace reflected his understanding of how destructive this force can be when it comes to making decisions and managing.
3. They Monitor and Manage Framing. Good decision-coaches understand the power of framing. They know that the same issues framed as a positive or a negative can result in very different decision-paths. They encourage neutral frames or, they facilitate the development of decisions around both positive and negative frames to ensure clarity of thought and diversity of idea generation.
4. They Teach Teams How to Talk. Most of our group discussions are unstructured and chaotic. We tend to argue our way forward, and good decision-coaches understand the power of DeBono's parallel thinking…getting everyone looking at the same issue at the same time as a means of designing our way forward. (See my Manager's Toolkit post, "Better Design for Workplace Discussions," including a link to DeBono's book, Six Thinking Hats.)
5. They Manage Time Pressures. We're all in a hurry, however, when faced with a complex or important issue to resolve, great decision-coaches know that speed kills. While certain environments demand snap decisions (think E.R. or battlefield), many of our corporate and organizational decisions can benefit from a "measure twice, cut once" approach. The best coaches manage the clock.
6. They Help Teams Build Decision-Muscle Memory.  The best decision-making teams learn from prior decisions. Great coaches ensure their teams maintain and review a decision log that captures the circumstances, assumptions and expectations of major decisions. Regular review of the outcomes and lessons learned will strengthen the team's future decision-making abilities…if nothing else by showing teams where they whiffed on process or assumptions from earlier decisions.
The Bottom-Line for Now:
At the end of the day, we are all evaluated on the efficacy of our decisions and those of our teams. Good managers and leaders deliberately teach their teams to navigate this complex, trap-filled environment in pursuit of the right decisions and ever improving outcomes.
—
More Professional Development Reads from Art Petty:
Don't miss the next Leadership Caffeine-Newsletter! Register here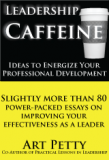 For more ideas on professional development-one sound bite at a time, check out Art's latest book: Leadership Caffeine-Ideas to Energize Your Professional Development. 
Download a free excerpt of Leadership Caffeine (the book) at Art's facebook page.
New to leading or responsible for first time leader's on your team? Subscribe to Art's New Leader's e-News.
An ideal book for anyone starting out in leadership: Practical Lessons in Leadership by Art Petty and Rich Petro.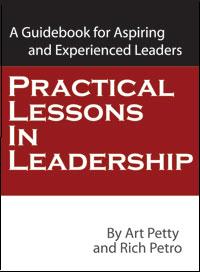 Need help with Feedback? Art's new online program: Learning to Master Feedback
 Note: for volume orders of one or both books, drop Art a note for pricing information.