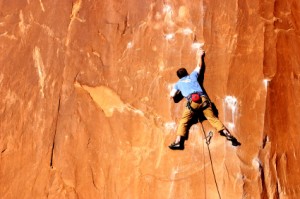 One of the most important "tells" of a person's professional character comes from their answer to a simple question: "What are you doing to get better at what you do?"
For hiring managers, this should be a stage-gate question. Candidates who pass through the early stages of a behavioral interview, earn the opportunity to navigate this simple but important question.
In my own experience as a hiring executive, most candidates run smack into the gate on this one. The answers are weak or non-existent. The candidate gropes for something to showcase a developmental experience. There's little if anything on the "Here's what I've read recently" list.
Self-development doesn't involve Keeping up with the Kardashians or cheering on our favorites on the latest incarnation of "The Bachelor."
In particular, mid-career…and moderately successful professionals seem to run out of fuel for self-development, perhaps because they sense they no longer need to improve or change or grow. That's a dangerous assumption in a world where professions and vocations are in a constant state of renewal.
Self-development is hard work
From awareness to initiative to action to completion, getting better at what you do…or adding skills to what you do is a full contact activity backed by deliberate actions. It's hard, often uncomfortable and sometimes even frightening.
Author, Stephen Pressfield, (War of Art, Going Pro and many others) offers up this powerful perspective on the effort and process of self-development, in his post, How We Get Better (part 2):
"Like climbing Mt. Everest, we claw ourselves up a brutal vertical ascent, only to realize that we stand at the threshold of a plateau of ice that we must now traverse, one harrowing crevasse at a time, to get to the next ascent."
"When we improve as artists, what is happening is less a process of adding layers of skill or technical expertise (though certainly that is happening, and it's very important) but more an evolution that is characterized by the shedding of false self-conceptions and the jettisoning of self-limiting ideas."
Working at "getting better" is not for the faint of heart or the weak of character. As a candidate, if you're doing it…I want to know where you're struggling or even failing. It's particularly powerful to understand where someone is failing…and then striving to overcome the failure.  It's you people I want on my team.
"What are you doing to get better at what you do?"
How would you answer the question?   
—
Speaking of Your Own Self Development:
Don't miss the next Leadership Caffeine-Newsletter! Register here.
For more ideas on professional development-one sound bite at a time, check out Art's latest book: Leadership Caffeine-Ideas to Ene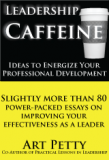 rgize Your Professional Development. 
Download a free excerpt of Leadership Caffeine (the book) at Art's facebook page.
New to leading or responsible for first time leaders on your team? Subscribe to Art' New Leader's e-News.
An ideal book for anyone starting out in leadership: Practical Lessons in Leadership by Art Petty and Rich Petro.
To talk about a strategy workshop or speaking need, contact Art at via e-mail at [email protected]
—