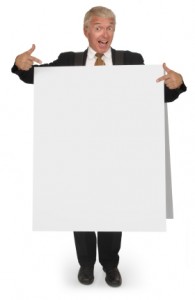 It amazes and disappoints me all at the same time how many businesses have no clue what their customers really need from them.
This problem is epidemic in the technology world (consumer electronics and business technology) in particular, where feature, function and price wars continue to dominate the landscape in spite of the reality that we buy for many other reasons beyond feature, function or price.
While the old adage of the person seeking to buy a drill may be a bit trite, it's true. Hint: you don't need a drill…what you need are holes!
WE'RE BUYING TO SOLVE PROBLEMS!
Cases in Point-Webinar Service Providers:
I'm in the process of launching a Webinar Series as a means of better supporting my customers and yes, of marketing to those who have a problem that needs solving, and the search for a Webinar Service Provider is truly an odyssey.
These firms are at war with each other over feature, function and price, which is OK, except for the fact that the small business owners and solopreneurs they are seeking as customers are mostly worried about how to how to produce, promote and leverage these events to support their own business needs.
We don't need a damned drill…we need some holes.
The providers are long on feature comparisons and most of them offer wonderful knowledge browsers to help you identify solutions to the most arcane technical problems. When I run into an arcane technical problem, I know right where to look. Right now, my problem in search of a solution is how to do this professionally and effectively. I respect my customers and prospects too much to do anything less.
Be Careful What You Ask For:
The theme of cluelessness on the part of one firm was underscored when I reached out to the support group  and the Rep's sole emphasis was on ensuring that I didn't call back again. He actually used the words, "we hope you don't keep calling us," as he attempted to push me to the knowledge browser which I had already tried before initiating the call.
Be careful what you measure and what you ask for, because you might actually achieve it. I won't be calling or providing my credit card to this service provider.
The Bottom-Line for Now:
This issue transcends my own rather insignificant service provider search. It's common for me to work with clients on strategy projects, and have to spend a good deal of up-front time getting them to quit defending how great their features and functions and products are versus their competitors. 
We seem to fall in love with our products and capabilities and lose sight of the real reasons we've invested all this time and money in growing our capabilities….the customers. The client's problem is always the issue.
Take off your blinders and consider management surgery for your myopic view of the world. It doesn't revolve around you.
—
Don't miss the next Leadership Caffeine-Newsletter! Register here.
Art Petty is a Chicago-based management consultant focusing on strategy and leadership development. Art regularly speaks on innovation in management and leadership, and his work is reflected in two books, including the recent, Leadership Caffeine-Ideas to Energize Your Professional Development.  Art publishes regularly at The Management Excellence blog at https://artpetty.com
Prior to his solo career, Art spent 20+ years leading marketing sales and business units in systems and software organizations around the globe. You can follow Art on twitter: @artpetty and he can be reached via e-mail at [email protected]