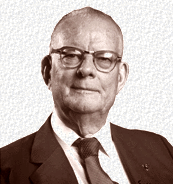 In my opinion, he's never been irrelevant as a management philosopher, teacher and advisor, but our fast-moving, idol-for-a-minute, fad-crazed modern culture, we're quick to write off those thinkers and doers from prior eras as yesterday's relics…interesting perhaps, but irrelevant.
If you are a younger reader, the man that I am referencing in this post is W. Edwards Deming, the late and in my opinion, great management philosopher and consultant. Dr. Deming is certainly well known in quality circles (bad pun intended), but scour today's current management books and if you're lucky, you might find an occasional reference.  Fascinating treatment of a man that inspired and guided the rebuilding of a country (Japan) and that spent his last years trying to "keep American companies from committing suicide."
Through no fault of their own, my recent informal polling of some really sharp university students (undergraduate and graduate), I found through the "show of hands" method that very few had ever heard of Deming, and those that knew the name didn't really know much about him.
I refuse to let a group of talented emerging professionals run through any management course of mine without spending some time with Deming, and introduced them via a 15-minute interview that he conducted in 1984, entitled "Management's Five Deadly Diseases." I encourage you to do the same.  It's fifteen minutes of pure Deming in his affected, slow and hard to understand speaking-pattern, filled with wisdom for managers that transcends time.  I've added this and a few other readings to your homework list below.
Following my Tuesday night showing of this video, I caught up with one of my favorite management thinkers, Bret Simmons at his Positive Organizational Behavior blog in a great post, "Toyota's Quality Mess: What Would Deming Say?" Bret and I exchanged some notes reinforcing the impact that Deming's work has had on both of us in our careers.
Homework for Your Career:
If you are curious to learn more and improve your understanding of the role of a manager and perhaps improve your performance, consider this homework list:
Visit the Deming Institute and learn more about his "Theory of Profound Knowledge" and his "14 Points for Management."
And if you're really into it, find a copy of "Out of the Crisis" and shudder at the parallels and still relevant lessons.
The Bottom Line for Now:
I'm most definitely in the camp that says that the science and art of management have not moved forward much in the past 100 years and that has to change.  I'm also critically concerned about learning from the past and understanding the wisdom of those that came before us.  We've not yet moved beyond the flaws and failings that Deming saw clearly in the management practices of the industrial revolution. And in fact, the only way that we will move forward is through conscious effort, or should I say, "constancy of purpose."
You owe it to yourself, your career and your firm to understand and learn from this great man.   I've outlined the homework.  The test results will be visible at the end of your career.