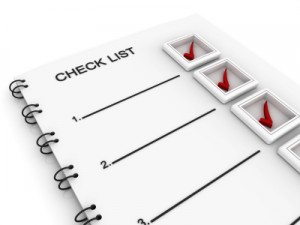 We are quickly approaching that time on the calendar when almost everyone resolves to do better on something next year.  Our resolutions are often health, relationship or personal development focused, and while some people make great strides and achieve their goals, many of us fail to stick with our well-intentioned initiatives.  Resolutions tend to disappear like the crowds at health clubs in February.
One compelling way to make resolutions stick and to make real progress is to apply the same quality principles and practices that we use in business to our personal lives through the creation of a Personal Quality Program.  The concept was initially developed by Harry Roberts and Bernard Sergesketter in the book: Quality is Personal—A Foundation for Total Quality Management in 1993, along with several follow-up articles by Sergesketter.
Sergestketter, writing in Quality Progress in August 2004 (subscription or fee required), credits a colleague for highlighting that "while people applied their new found (quality process) knowledge on the job, they rarely use that learning to improve their personal lives."  His conclusion after trying some examples in his own personal/professional life was that, "The foundation for applying the principles of quality to personal processes is to identify and set standards based on customer need and then measure against those standards."
Three steps to developing and implementing a Personal Quality Improvement program include:
Identifying the items you want to improve.
Establishing standards for improvement.
Measuring your performance against those standards and tracking your performance on a personal quality checklist.
I had the great fortune to lead an MBA class on Quality Management at DePaul University's Kellstadt Graduate School of Business last quarter, and one of the many outstanding groups in this class chose to create a Personal Quality Program for their project.  They identified items for improvement in three categories: personal, professional and academic.  Personal items ranged from improving nutritional intake to increasing the number of "tuck-ins" of young children during the week.  Professional included job hunting, delegating and managing e-mail more effectively.  Academic goals included reading and class prep and overall performance.
The group developed a checklist, identified their individual areas for improvement and their targeted standards.  They would meet weekly to review progress and performance, provide encouragement and discuss and agree on adjustments to their measures and standards.  To a person, they saw value in the process and positive outcomes in all three areas during the eight-week process.
With thanks for their efforts and their debrief, I offer their very well thought-out conclusions and advice with complete attribution going to this talented group of professionals:
View your day through a Quality lens.  Each day consists of a series of processes that can be improved.  Continuous improvement is not limited to businesses or formal organizations: it can also contribute to a more fulfilling professional and personal life.
Identify processes from your personal and professional life that you would like to improve.  These processes should be measurable and with purpose.  Process improvement should ultimately benefit you and/or your customer.  Focus on no more than 10 of these processes at a time
Choose a standard for each process that you wish to improve.  (Note: the group focused on successes, while you may choose to focus on measuring defects.)  Put together a Personal Quality Checklist that fits your measuring preferences, including frequency of measurement (daily, weekly etc).
Use your checklist.  Keep your checklist handy and track your progress.
And their final suggestion: Don't get discouraged.  If you need additional motivation, sharing your checklist with others helps add accountability.
The Bottom-Line for Now:
Take some time this week to think about areas that you would like to improve in your personal and professional lives.  There's no reason to not put the well-established quality and process improvement practices that you use everyday in your job, to work on improving your own personal and professional performance.  Whether your goal is to increase quality time with your family, reduce unproductive time at work, better manage your e-mail, or lose 10 pounds, using the principles and processes of quality management can help you succeed.
See you in February at the health club!
Note: I'll be back with some more suggestions and possibly some Quality Checklist templates as we get closer to the end of the year.