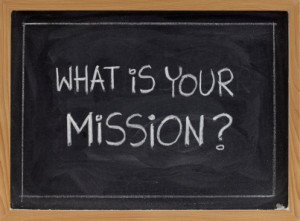 Fresh off the heels of running my annual post on the need for leaders to eschew annual resolutions in favor of a continuous refresh, I'm contradicting myself just a bit with my "blogging resolutions" for the year.
I like the idea of making the goals public. Nothing like visibility to promote accountability!
A Bit of Context:
Much like the fatigue I imagine a distance runner feels at times, constructing 943 posts in a few years takes its toll and requires one to find ways to refuel and push forward. While the runner and the writer both have the option of quitting to make the fatigue go away, there's something deep inside both individuals that pushes them quietly forward towards a mostly personal goal.
I would just as soon quit breathing as cease writing about management, leadership and career development. Odd, but true I genuinely love supporting the pursuit of developing great firms, great management teams and great careers!
OK, with that out of the way, here's how I intend to strengthen the blog and deliver more value to you in the upcoming period.
Art's 5 "Management Excellence" Blogging Resolutions (In no particular order):
1. Refocus on the Core Purpose. I said it above. The focus is on promoting the development of great management teams, great leaders and great careers. Every post must support this lofty but achievable mission. The guidance must be fresh, practical and actionable.
2. Deeper Focus for Specific Audiences. The content is applicable for professionals at all levels, however, my own coaching/teaching/writing focus is on the following three audiences:
The "Level Up" audience of mid-career professionals striving for or just embarking upon  their first role with a seat at the executive table. While a promotion to the executive team is a success milestone, the reality is that many professionals struggle and some fail to make the transition. I want to help improve your odds of success.
The Management Team striving for high performance. Every member of senior management plays a role in the group developing as an effective team. The content here will focus on challenging CEOs and executives to uncover their core priorities when they are "at the table" and to push them to develop as a functioning team directly supporting improved organizational performance and health.
The First-Time Manager/Front-Line Leader. Organizations are often at their worst when it comes to cultivating these critical front-line leaders and the cost to the firm in reduced performance, poor customer satisfaction and loss of leadership bench strength is nearly catastrophic. I'm on a mission to help strengthen the world one effective new leader at a time.
3. Just the Right Number of Unique Voices.  Some bloggers lapse into a routine that incorporates an endless stream of guest posts…in part to take the pressure off the obligation to come up with fresh content and in part to drive traffic. While neither of those are inherently wrong, this is a mission focused blog, not a newspaper. I will bring fresh voices to the blog that address the issues of the core audiences.
4. A Splash of Fiction. Much like Goldratt, Lencioni and  Blanchard do such a great job with the story or fable approach to leadership content (they embed valuable leadership and management lessons inside a fictional story narrative), I intend on adding a story-line to our material. My first stab at this inside Practical Lessons in Leadership (with Rich Petro) received positive feedback and it's time for this frustrated fiction writer to blend the genres. Look for the upcoming Saturday Serial. (OK, it's a play on words but I like the sound of an on-going Saturday story that tackles the tough topics of management and leadership in a unique way.)
5. New Media. This may be the hardest resolution to live up to. I loved the earlier podcasting work with the Leadership Caffeine podcast and want to revitalize it as well as add video blogging to the content. Both take time and dedication and I found ways to quit making time for the podcasting in spite of the popularity of the series. Some people like to read, others view or listen, and I want to find as many ways as possible to deliver on the mission of the blog and support your success.
The Bottom-Line for Now:
I'll report back on progress and results and I appreciate your feedback and ideas along the way. Thanks for your readership and your support. It's great to be on a journey together in pursuit of management excellence.
—
More Professional Development Reads from Art Petty: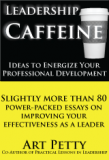 Don't miss the next Leadership Caffeine-Newsletter! Register here
For more ideas on professional development-one sound bite at a time, check out Art's latest book: Leadership Caffeine-Ideas to Energize Your Professional Development.
Order one or both books for your team. Contact Art.
New to leading or responsible for first time leaders on your team? Subscribe to Art's New Leader's e-News.