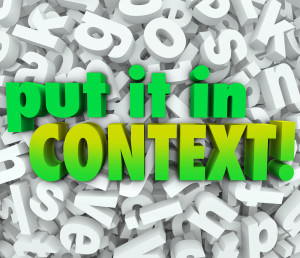 Every week I share a few ideas to help you finish strong. A great ending sets the stage for success next week.
—
1. Reinforce the Importance of Your Team's Efforts to Corporate Strategies and Goals
People do their best work when they have context for the importance and impact of their efforts. In too many organizations, corporate and functional goals are discussed at the beginning of the year and rarely referenced other than in financial language during the balance of the year. Over time, people lose a sense of connectivity between their work priorities and the big picture, allowing the cadence to slow to a crawl and inviting less relevant side-initiatives to take root.
Sit down with your team members and review the firm's updated strategy content. Be certain to showcase how your team's efforts connect to the core strategies and key goals. Tie your group's core metrics to the bigger corporate health metrics. Add an executive to the discussion to talk about the challenges the firm is running into with key strategies and encourage your team members to ask questions or offer ideas on how they can increase their support for the big picture.
2. Reach Out and Connect with Remote Colleagues
Having live and worked outside of the home city of my firm for many years, I am sensitive to the sense of creeping isolation that often comes with this set-up. Make time today to reach out by phone or video with a number of your far flung colleagues and find out what they're thinking. If they operate in customer-facing roles…e.g. sales, services or support, pick their brains on what they are hearing from customers. Ask about how coordination and communication is working with corporate-based teams and colleagues and discuss and agree on opportunities to visit corporate or connect at regional meetings in the near future.
In my experience, most remote workers are incredibly dedicated to their work and they are hungry to engage and help the firm improve. A bit of extra effort to connect with these individuals will help you uncover their great ideas and remind them they are part of something bigger than the view from their home office window.
3. Weekend Reading:
Yes, weekends are for reading and thinking. What's teed up on your nightstand or e-reader? Next up for me:
Humans are Underrated—What High Achievers Know that Brilliant Machines Never Will, by Geoff Colvin
The New IT—How Technology Leaders are Enabling Business Strategy in the Digital Age, by Jill Dyché, foreword by Geoffrey Moore.
I'll loop back and share my thoughts on these exciting new books in the next few weeks.
For some short and insightful leadership writing, check out the August, 2015 Leadership Development Carnival hosted by LeadChange Group. I'm honored to be included with some of the most inspiring and thoughtful leadership writers out there. Enjoy this great resource.
—
That's it for now. Remember to finish strong and come back next week prepared to conquer the world! -Art
—
Don't miss the next Leadership Caffeine-Newsletter! (All new subscriber-only content!) Register here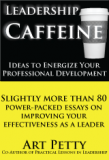 For more ideas on professional development-one sound bite at a time, check out: Leadership Caffeine-Ideas to Energize Your Professional Development.
New to leading or responsible for first time leaders on your team? Subscribe to Art's New Leader's e-News.
An ideal book for anyone starting out in leadership: Practical Lessons in Leadership by Art Petty and Rich Petro.