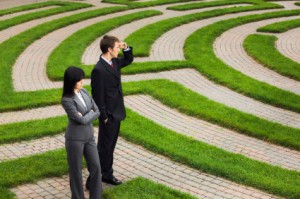 Whether you are a few years removed from college or a few years removed from that time when prior generations began thinking about retiring, chances are, you or someone you know is involved in defining or redefining their career.
It's a daunting task in a world where the old rules no longer apply. For those just starting on their career journeys, many have sprinted out of college only to run face-first into the brick wall that is the job market in so many sectors and markets. For this group, career development has turned out to involve a lot more work than just graduating.
For those of us with a few more laps around the block to our credit, the future doesn't quite look like what we expected. The book on career management has a new chapter that many of our parents never experienced. It's called, "Reinvention," and it's really daunting.
Regardless of where you fit on the chronological scale, there are at least five key issues that I encourage you to wrap your arms and mind around. Like much of the invention or reinvention process, tackling these items is challenging, uncomfortable, and critically important.
At Least Five Keys for Career (Re) Invention:
1. Aligning Your Values, Purpose and Goals around a Vision.
While your tendency may be to roll your eyes at the fluffy and abstract discussion of personal vision and values, the reality is that you do have a set of operating instructions (your core values) and there is a purpose that drives all of us. Sometimes we ignore that purpose (often for decades), but it is there and aligning values and purpose around some big, exciting and challenging goals is an important part of the process. It's awkward and difficult and squishy to grasp but when you focus in on a vision for yourself, it's transformational.
For some help here, check out Ed Batista's outstanding post, "Developing Your Professional Vision," and Jesse Lyn Stoner's (with Ken Blanchard) excellent book,  Full Steam Ahead. 
2. Cultivating Your Confidence and Self-Esteem.
Confidence is critical for fueling invention or transformation. Without it, we just dream. With it, we take actions to build towards our dreams.
I've long believed the biggest barrier to individual success is self-confidence. Recognize this issue as human, get over any stigma attached to it, and seek coaching, help and guidance on developing the inner-strength to tackle problems and issues that seem foreboding and practically impossible. A good coach is priceless here. My post, "9 Ideas for Strengthening Your Self-Esteem" is a starting point.
3. Strengthening Your Professional Presence.
A critical part of the confidence issue is the ability to project this confidence and to engage as an articulate, intelligent professional. Those who lack confidence AND who lack the ability present themselves as confident, knowledgeable and interesting human beings are relegated to bit roles in their own careers.
From your posture to your eye-contact to your smile to your eyes to your ability to listen and importantly, your use of your vocabulary and your ability to articulate your thoughts, it's all on display and it's all being judged. Solicit feedback from trusted sources, engage a speaking coach and take deliberate action to match the vision. One of my favorite books on this topic: Seeing Yourself as Others Do, offers some great guidance.
4. Planning to Act…Creating a Strategic Plan for Your Career.
Pardon the lofty sounding label, but you cannot operationalize a vision…you can't put into play unless you've created a roadmap complete with those items on the critical path that are essential for success.
Armed with a vision, you need to set clear goals and define those very clear actions and milestones required for success. My favorite definition of strategy: "integrated actions in pursuit of competitive advantage," reminds me of the need to coordinate my activities, measure my results and adjust accordingly. Put pen to paper. The act of planning forces you to think through what it takes to succeed. And then engage. You can update the plan along the way.
5. Building Your Professional Brand. 
There's never been a better time to build and form and frame your professional brand…to build yourself as a thought-leader than now. The tools are there, they are mostly free and they are truly powerful. Sadly, just about everyone I know who is struggling with the career issue is failing to leverage these tools in the proper manner to position themselves as thought-leaders, as exciting and relevant professionals and as people worth listening to and investing in.
The person I pay attention to on this topic is Dr. Bret Simmons writing at Positive Organizational Behavior. Bret is a champion of the topic of building your professional brand…particularly when it comes to leveraging the power of social media to do this.
The Bottom-Line for Now:
Whether you are building, rebuilding or transforming your career, the work described above is some of the sticky, dirty, roll-up-your sleeves hard work that builds towards success. There's no silver bullet, no convenient short-cut and no getting away from the heavy lifting.