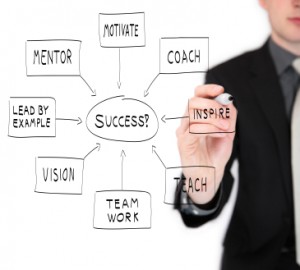 Note from Art: every week, I share three thought-provoking management posts for the week. Fair warning: I take a broad view of management, so my selections will range from leadership to innovation to finance and personal development and beyond.
This week's selections feature content on hard working CEOs, the importance of stories as tools for persuasion and the difficult choices people are facing in some toxic workplaces.  Enjoy!
From Steve Tobak writing for BNET at The Corner Office, CEOs are Just Like You -Without All the Whining. Tobak offers a rare defense of the many hard-working CEOs who frequently get bashed in our office water-cooler conversations. I'll echo his advice: "Quit whining!"
From the post: "You'd think CEOs were born with the title, like royalty. Or they just fell right out of the sky into a cushy corner office chair. Nothing could be further from the truth. Many, if not most, CEOs started with nothing. But instead of whining, they took responsibility for their careers, worked their tails off, and made it."
From John Baldoni writing at HBR Blogs, Using Stories to Persuade. We like to hear stories and we remember them.  John appropriately reminds us of the power of telling stories in our attempts to leave an impression or make a point.
From the post: "Effective storytelling can serve anyone in leadership who seeks to persuade others to his or her point of view. Opinion-based rhetoric is often more polarizing than persuasive, while statistics are often go in one ear and out the other. But a careful blending of rhetoric and facts, woven into the right story, can change minds."
From Jennifer V. Miller writing at her blog, The People Equation, Flying Without a Net. This is the first time for Jennifer in my Weekly Review, and I look forward to making up for lost time.  Her insightful, positive and people-focused posts are must reading.  In this particular essay, she raises the challenging issue of workplace atmosphere, emotional well-being and the difficult choices some people feel compelled to make to retain physical and mental health.
From the post: "Have workplace conditions gotten so bad that people are willing to leave even when they don't have the "safety" of a new job?  Just how bad does it have to get for someone to fly without a net? Is there anything human resource professionals can do about it?"
—
Enjoy your weekend. Back next week with more Leadership Caffeine!
—
Art Petty coaches, trains and speaks on leadership development, high performance team development, feedback and decision-making. Drop Art a note to talk about a workshop program, speaking need or coaching opportunity.