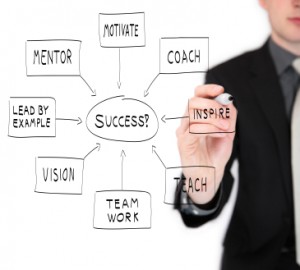 Note from Art: every week, I share three thought-provoking management posts for the week. This week's selections feature content on: moving forward, taking steps to ensure that your company will appeal to the best and brightest of the Facebook Generation and some thoughts on Enchantment with Guy Kawasaki along with some new productivity tools.  Enjoy!
From Rosabeth Moss Kanter writing at HBR Blogs, Four Reasons Any Action is Better than None.  The short translation…get up, get moving and don't let anyone slow you down.  Professor Kanter offers some good encouragement for all of us to get it in gear. My only addition to her guidance is to beware of too much activity with no vector. I've seen as many struggling companies where everyone was moving at a frenetic pace in no particular direction, as I have companies where people were standing still.  Nonetheless, great encouragement.
From the post: "Companies heading downhill have passive cultures. Unmade decisions pile up. Opportunities are lost. No one wants to risk making a mistake. It becomes easier to sit it out than get into the game." And, "In contrast, in companies with high levels of innovation, people take initiative. They start new things. They don't wait to be told."
From Gary Hamel at Gary Hamel's Management 2.0 (WSJ): The Facebook Generation vs the Fortune 500. Must read guidance from my favorite "management innovation," guru, on ensuring that your company and your practices appeal to the best and brightest of the Facebook generation.
From the post: "I compiled a list of 12 work-relevant characteristics of online life. These are the post-bureaucratic realities that tomorrow's employees will use as yardsticks in determining whether your company is "with it" or "past it."
At FastCompany.com Work Smart w. Amber Mac: Enchantment with Guy Kawasaki (video): This is a new feature at Fast Company, offering some insights and product overviews in an appropriately fast fashion. This inaugural episode includes a one minute clip on some new e-mail social/productivity tools and two minutes with Kawasaki on Enchantment. (FYI, I love the book!).  An interesting use of 3-minutes of your time.
From the post:"In this inaugural edition of Work Smart 3, our series on productivity and streamlining your work life, host Amber Mac talks Enchantment with noted influencer Guy Kawasaki. But first, Mac shares another enchanting way to make your email life easier: Xobni, which is in-box spelled backwards."
—
OK, that's it for the week. Enjoy your weekend. I'll be back next week with the latest Leadership Caffeine post and much more.
—
Art Petty coaches, trains and speaks on leadership development, high performance team development, feedback and decision-making. Drop Art a note to talk about a workshop program, speaking opportunity coaching need.