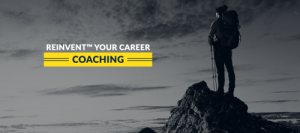 Career Reinvention—Designing the Next Stage of Your Career
Do you have an intense desire to make a significant change in your career? Not the "I need a new job kind of change," but the "I need a new professional life," type of major career change?
At the same time you are feeling this drive to transform, are you a bit overwhelmed by the idea of trying to figure this out?
Are you unclear on where or how you should start?
Are you fearful of getting started?
Many are looking for a guide to help them jump-start their work of career reinvention.
It's a process. In technical terms, it's a design process with a big problem to solve. It takes time, experimentation, and ample collaboration with someone motivated and experienced in the process.
This is where I come in. I serve as your guide, accountability partner, and lifeguard as you design and move to the next stage of your career.
I help you via a variety of methods including live-workshop programs, one-on-one coaching, and via a forthcoming self-paced e-learning course.
No one reinvents their career alone. Check out the options and upcoming sessions and if you have questions, drop me a note.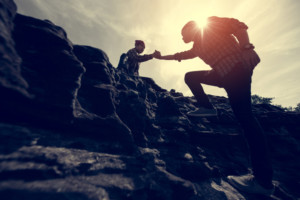 Consider our Career Reinvent Bootcamp Program!
Drop us a note for information on upcoming sessions.
In a series of 90-minute sessions plus two one-on-one coaching calls, executive and career coach Art Petty, guides you through the different stages of the Reinvent Framework™ to help you develop a clear strategy and approach for your situation.  Following the program, you have unlimited e-mail access to Art to answer questions and offer guidance. Additionally, Art offers once per month live check-in and evergreen access to a resource-filled e-learning portal.
Topics covered include:
Reframing what it means to reinvent yourself in your career
Assessing: Is career reinvention right for you?
Overview of the Career Reinvent Framework™ (Determination, Self-Discovery, Exploration, Experimentation, Planning, Launch)
Self-Discovery: tuning in to your best-self, superpowers, and backstory and using your past to design your next stage
Exploration: ideation, divergent thinking, and casting a wide net exploring options
From Exploration to Experimentation–design thinking meets agile project management
In search of that sweet spot: the convergence of abilities, interests, and marketability
Iterating between exploration and experimentation
From experimentation to decision
Looking ahead: how to bring your idea to life (preparation and launch stages)

This Program is For You If…

You're frustrated in your career and are looking for something new beyond just a job change
You're feeling burned-out on large organizational or institution life
It's been on your mind for a while to do something different but you haven't found the time to dig in
You've been successful and are motivated to shift where and how you deliver what you are great at
Your professional life has been uprooted by a major event and you want to make a change NOW
REINVENT™ Your Career Coaching Program
In my Reinventing Your Career Encore Coaching Program,  I guide you through the process of designing and moving forward with career change.
The Reinvent(TM) Your Career program follows a six-step process that includes:
Determination: Is this truly the right next step for you?
Self-Recognition: Seeing your superpowers and impact through they eyes of others.
Exploration: Helping you uncover the sweet spot where your abilities meet interests and marketability.
Experimentation: Designing intelligent experiments to assess options and narrow choices.
Conditioning: Like fitness training, this involves personal and business planning and preparation for the transition.
Launching: Moving from experiment to venture.
What you should expect on your journey of career reinvention: challenges, obstacles, and growth.
Jump-starting the reinvent process. Getting started is literally the hardest part.
What impact have I had on others and how does this tie to my superpowers?
Where's the sweet spot of marketability meets superpower meets passion?
How might I approach and attack that sweet spot for maximum success?
How do I launch? Big Bang or lean and agile?
Surviving and sustaining for the uphill push.
We work together at no charge over a minimum of two coaching sessions to determine if the REINVENT Coaching program is right for you and your situation. Once we've agreed to proceed and payment is made ($3,500) we initiate regular video coaching sessions (typically weekly and sometimes multiple sessions per week)
Determination focuses on defining your career challenge (the problem) and creating a high-level design plan to solve it.
Self-Discovery focuses on tuning in to your strengths (superpowers) and gaining perspective on circumstances where you are at your professional best. I provide exercises and templates for you to follow and we work together to assess and translate the outcomes.
Exploration involves looking at the broader universe of options and investigating them for fit with you and your situation. During this process we work together to narrow down the options to a manageable two to investigate in the Experimentation phase.
Experimentation typically involves primary research of the potential options. Some clients interview people in the field; others take-on part-time assignments to better understand the work. Everyone's situation is different, so experiment design is tailored for your situation.
Conditioning starts once you've down-selected to a targeted new career. We build the strategy and business plan to take you from where you are today to this new career. (Many clients do significant business planning during this phase.)
Launch is akin to hitting the "go" button.
The program duration involves 4-months of active coaching and then on-going phone and e-mail support and regular check-ins as you move forward. If your situation is particularly involved, I'm happy to discuss coaching extensions at the time or a longer arrangement up-front.
While these programs involve time-investment and hard-work on your part, you have a partner and guide invested in and actively involved in the process.
If you're ready to talk about reinventing your career, reach out to me for a discovery interview via e-mail or by phone at: 847.612.8420.
The Ideal Way to Jump-Start Your Career Reinvention:
For individuals looking to fast-track career invention, the focused, four-month REINVENT™ coaching program is the right choice.
For many others, a group option is a bit more cost-effective and provides more of a guided "work at your own pace" program.
I've helped professionals in software, engineering, government, manufacturing, consulting, higher-education, and retail make significant, positive changes in their careers.
Is it your time?
Drop me a note to talk about your situation and discuss the best way forward reinventing your career.