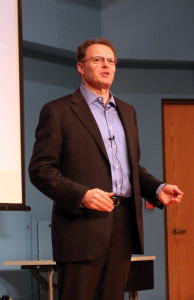 The Art Petty Group is a leadership development and strategy firm that supports the development of high potential (Level-Up) professionals and helps CEOs and management teams reach new levels of effectiveness.
Founder and Principal, Art Petty, is a popular management writer, blogger and keynote speaker dedicated to inspiring and guiding the next generation of senior leaders and supporting the emergence of high performance management teams and firms.
Everything I do is intended to help individuals positively transform as professionals and leaders. -Art Petty
Art is a former senior software industry executive responsible for helping firms develop as market leaders in data management/data quality and retail automation. He is the author of the Management Excellence blog, the Leadership Caffeine series and multiple books on leading and managing. Art serves as a guest lecturer at multiple universities in the Chicago area and is an avid fan and alumna of the University of Illinois-Urbana, DePaul University and Northwestern-Kellogg (Kellogg Management Institute and others).
An Interview with Art Petty:
How do you help professionals develop as effective leaders and executives?
The move from senior manager or director to Vice-President…the first rung of the executive ranks represents an incredible opportunity for those whose hard work has earned the trust of the firm's top leaders. Unfortunately, the opportunities for missteps are everywhere…visible and hidden landmines, and the penalties for these missteps are severe, ranging from job threatening to career derailment.
Through active coaching, I help a firm's highest potential candidates successfully navigate the many challenges of senior leadership, including strengthening executive presence, understanding and dealing with power and politics and serving as a valuable and value-creating member of the management team. Along the way, I help them understand how to enjoy and appreciate this unique and privileged opportunity.
How do you help CEOs strengthen senior management team performance?
In a nutshell, we challenge and guide them on "Leveling Up" as leaders. We help them discover the potential in their senior team members and we coach the entire senior group to become a team through coordinated action on strategy.

Every CEO I've ever worked with believes there's "more" available in the form of collaboration and coordination, particularly around the issues of strategy and execution. And the teams are usually filled with smart people…experts in their fields or functions who have no frame of reference for what it means to function as a team at the senior level.
We provide these very smart people with the objective eyes and ears on team issues and the energy, curiosity and tools to help the groups discover what it truly means to collaborate as a team at the senior level. No trust falls or ropes courses…just the hard work and focus on the right issues and behaviors needed to gel as a team.
We also work to take the alchemy out of strategy. We help CEOs and teams examine their business from all perspectives and we guide them on building the processes and skills required to ensure continuous learning and innovation.
Who are your ideal clients?
Individuals (executives and aspiring executives) committed to growing as senior contributors and CEOs passionate about creating high performance management teams. We work with professionals and teams focused on changing the world, winning in their markets and building remarkable organizations.

Who do you love to speak in-front of?
Any group, team, company or organization striving to do something remarkable. Whether they are seeking to reinvent themselves in new markets or take their individual and group performance to a new level, my speaking sessions are boot camps that promote informed, aggressive action and change.
Art's 30 Second Bio:

coaching high potentials, developing leaders, speaking, management innovation, solving strategy, precision execution, teams, writing, teaching, family, personal growth, right and left brains in battle for attention, sand, legend lake, zen, asimov, hemingway, dickens, rand, thought I would be: lawyer, glad I'm not: lawyer
Speaking Engagements with Art
Art is a frequent speaker at management conferences and company meetings on cultivating high performance teams, group decision-making and strengthening the leadership culture in organizations.