Every effective leader I've worked around is a self-admitted talent scout. They are always on the lookout for individuals capable of something above and beyond today's work-related activities. They are looking for people who display the potential to do more, particularly when it comes to guiding teams and leading others.
This leadership talent hunt is big game to the seasoned leader. The reward of spotting and supporting and then watching an individual come to life as a leader makes up for the myriad failures this process naturally creates. It is a complicated game played over a long period of time with ample opportunities for missteps.
I had the occasion recently to meet with a group of experienced leaders and this topic of spotting leadership potential in people drove a spirited exchange of ideas. While all admitted working in firms where there were formal processes, leadership competency models and assessment tools, all still relied on their powers of observation to find suspects.
With permission, I've captured some of the thoughts shared in this session below. In all cases, I paraphrase.
This leadership talent hunt is big game to the seasoned leader.
Click To Tweet
On Tactics for Spotting People with Leadership Potential:
I look for many attributes, but the one that impresses me and encourages me to watch someone more closely is their grace under pressure. Our environment is fast moving and the only way we keep the train on the tracks is by drawing in great people with the self-confidence to dig-in and work with others to quietly and deliberately solve problems is situations where many might panic.
I look for individuals comfortable in pulling together resources from different groups to solve problems. The lone genius is important in some of our technical roles, but the organizer who brings people together for a common short-lived issue is interesting for me.
I watch my informal leaders, particularly the project managers, and believe that the best of these individuals—the ones who focus on leading projects, not just managing meetings, are great potential future leaders.
On Mistakes:
My mistakes probably outnumber my successes, but the ones that worked out and proved worthy of investment in coaching and mentoring are now running my business units. People are complicated and I do not expect to bat 1,000. The MVP in baseball usually bats less than 400.
My optimistic belief in people has blinded me to some character flaws that showed up later in our development program. I've learned over time to focus on character earlier in my assessment and disqualify individuals where the issue is suspect.
In some cases, I've pushed people too fast for where they were on their professional journey. I now work to adapt the pace of development to the individual's situation.
On Creative Approaches to Scouting Talent:
I am looking for talent every day, including weekends when I am running errands and shopping. My best find was at a cell phone store filled with angry customers and a manager who was clearly agitated. One of the key employees moved from customer to customer resolving their challenges while simultaneously helping calm the manager. I hired him the next week and 14 years later he is one of our rising executives.
I use industry events as an opportunity to interview people even when I don't have a position. The interviews are not formal and there are no openings discussed. I am simply looking to find the rising stars in my space and get to know them a bit better. When the time comes, I want to be on their short-list for the call…and alternatively, when I have an opportunity, I want them to take my call.
I spend a great deal of time dropping in on team and group meetings and simply observing the dynamics. I like to listen for how people think and reason and strive to persuade others. I definitely don't love the extroverts who dominate the discussion. The real nuggets of potential are often found in the quieter, thoughtful individuals who allow those with a lot to say to exhaust their lungs. Then they jump in and close the deal.
—
The Bottom Line for Now:
I love hearing how experienced professionals go about the imperfect process of finding future leaders. Regardless of the tools, competency models and assessments, there's a blink reaction most of us still rely on for this work. Given the track records of my colleagues in growing their businesses, there's something to be said for the experience-based approach. How hard are you working at spotting the next generation of leaders in your firm?
—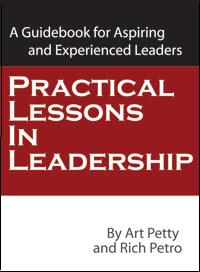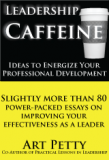 Art Petty is a coach, speaker and workshop presenter focusing on helping professionals and organizations learn to survive and thrive in an era of change. When he is not speaking, Art serves senior executives, business owners and high potential professionals as a coach and strategy advisor. Additionally, Art's books are widely used in leadership development programs. To learn more or discuss a challenge, contact Art.
Art's Management and Leadership Writing at The Balance
Leadership Caffeine on Facebook