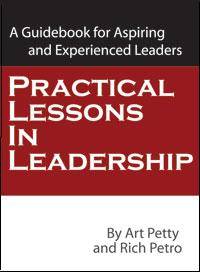 Whether you are starting up as a new leader or seeking to strengthen your skills as an experienced leader, Practical Lessons in Leadership by Art Petty and Rich Petro is used by thousands of professionals as the desktop reference to getting it right!
Designed to serve as an indispensable reference for professionals at all stages of the leadership lifecycle, Practical Lessons fills a gap in the body of leadership literature for practical, actionable advice The concepts, approaches and tools in this book are workplace tested!
What people are saying at Amazon about Practical Lessons in Leadership:
This is the best practical book on leadership that I've read in at least twenty years. -Walter H. Bock

Art and Rich have done a great job of getting to the meat of how to put action to the development of leaders and more importantly potential leaders. -S. Wallin

This book was so "right on," that I ordered an additional 12 copies to share with close clients and business associates. It's a must read! -R. Cyr
Practical Lessons in Leadership is Ideal for:
First-time/new leaders
Leaders taking over a new team.
Experienced Managers developing new leaders
Leadership book clubs
Any HR or Training Professional interested in passing along an invaluable reference source.
Instructors/educators teaching leadership programs/courses.
The book includes 12 cases, discussion questions and access to the views of the authors on the issues in the cases.
Chapters include:
The Motivation to Lead and the Nine Attributes of Great Leaders
Solo Performer or Leader- A Guide to How the World Looks from Each Side of the Ladder
Leadership-How Do I Get There from Here?
The Top Ten Challenges that You Face as a New Leader
Congratulations, You Have a Team! Now What?
Growing Your Personal Credibility Account
Forget Everything Else, Here' Your Real Job-Creating the Effective Working Environment
The Power of Paying Attention to Your People
Leveraging the Power of Feedback as a Powerful Leadership Tool
Chief Talent Scout and Developer
Creating a Culture of Innovation with Your Team
In Pursuit of Operational Excellence
Join the many management teams, leadership educators and professionals who return again and again to Practical Lessons in Leadership!
Paperback copies at Amazon.com (see Reviews)