"Will this make the boat go faster?" is my new favorite question. I may quickly wear it out with my colleagues, but I suspect I'll get my point across.
The original context according to Mark De Rond, writing in his excellent book, "There is an I in Team," is from Rowing Club Manager, Roger Stephens, who when presented with an idea concerning his team would respond, "Will this make the boat go faster?"
Think of the myriad of situations you experience on a daily basis in the name of business performance where this question might serve as a valuable filter. Here are a few from me…please add your own.
At Least 5 Situations Where The Boat is Not Moving Any Faster:
1. The 8:00 a.m. around the table death march of updates from every functional manager. Nope, not making the boat move any faster.
2. The 437th status update on the IT project from hell.  Definitely not faster.
3. The brainstorming meeting where the boss critiques every idea. The boat is slowing down!
4. The corporate proctology exam that passes for a sales forecast review with bean counters on another continent all trying to ask vexing questions that make the small amount of hair left on the sales manager's head truly hurt. No faster boat here.
5. The corporate offsite where someone straps you into a canoe with a half-wit from another department and expects you to come out the other end of the river with a new sense of teamwork and camaraderie. The boat may hit the rocks on this one!
The Bottom-Line for Now:
The world of work may well become a better place if we would simply filter a few more activities with this very succinct and clear question: "Will this make our boat go faster?"  If not, just say "no."
–
Related Reading-Your Message and the Chicken Salad Sandwich Test
–
More Professional Development Reads from Art Petty:
Don't miss the next Leadership Caffeine-Newsletter! Register here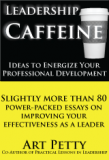 For more ideas on professional development-one sound bite at a time, check out Art's latest book: Leadership Caffeine-Ideas to Energize Your Professional Development. 
Download a free excerpt of Leadership Caffeine (the book) at Art's facebook page.
New to leading or responsible for first time leader's on your team? Subscribe to Art's New Leader's e-News.
An ideal book for anyone starting out in leadership: Practical Lessons in Leadership by Art Petty and Rich Petro.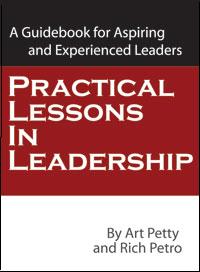 Need help with Feedback? Art's new online program: Learning to Master Feedback
 Note: for volume orders of one or both books, drop Art a note for pricing information.