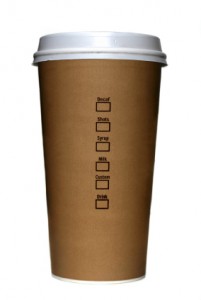 One of my favorite (and I believe relevant) articles of the past year is: "Wilderness Leadership On the Job- Five principles from outdoor exploration that will make you a better manager," by John Kanengieter and Aparna Rajagopal-Durbin in the April 2012 Harvard Business Review (subscription or $).
The authors describe the need for leaders to cultivate TFAU or Tolerance for Adversity and Uncertainty for survival and success in today's uncertain world. As a long time student of the polar explorers as examples (successful and unsuccessful) of leadership and management role models, the need to expect and adapt to the unexpected at every twist and turn is indeed a wilderness survival and success technique.
While much about our world has changed, the structures, processes and tools that we draw upon in our work as leaders and managers have their roots in times that were more static, more contained, and more accommodating of our need for a sense of order.
Instead of teaching people to work within a self-contained system where the goal is to impose order, this new world demands much more of a sense and respond style of leading. Opportunities or threats flare up, we organize quickly to prosecute these events, and we process on and incorporate the lessons learned as we move forward towards a somewhat fuzzy and ever-shifting future.
While cultivating TFAU and a sense and respond type culture might suggest that cultivating a future vision and backing it with forward planning might be less valuable, I would argue it's just the opposite. Like the polar explorers or any other explorer, there's a destination in mind and a well-developed game plan to get there. However, reality says that the destination may need to change and the method for getting anywhere is often one we define on the fly by sensing, responding, learning and rethinking our approaches.
Eisenhower's famous quote, "plans are nothing, planning is everything" has never been more relevant than in today's business world.
 5 Ideas for Cultivating Tolerance for Uncertainty and Ambiguity on Your Team:
1. Monitor, Talk and Learn. Constantly refresh on the competitor, customer and global forces impacting your environment. External monitoring is everyone's job. Create forums (live and online) to talk about the external environment. Teach people to connect external changes to, "And what I think this means for us (or our customers) is… ."
2. Less Vision, More Value. Anchor your culture and even your vision around value creation for some audience(s). Targets and destinations shift…and "becoming the leading provider of… ." is just so much happy baloney. Instead, focus on cultivating a galvanizing theme of value creation through problem-solving for well defined audiences.
3. Agile Please! Adopt practices in project management and even strategic planning that foster intelligent experimentation. No one can be right all of the time, but everyone can learn from clearly defined experiments.
4. Learn to Assess Your Perils. Not every bump or noise in the night is a problem that merits response. Choosing what not to do may be the most important task of today's agile leader.
5. Measure Progress Properly. Traditional measures of success are often insufficient to gauge progress in the wilderness. Look for measures that reflect learning, improvement, feedback and acceleration.
 A Serenity Now Prayer for Leaders in the Wilderness:
From the article:
"We tell them to plan for things they can control, let go of things they can't, expect the unexpected, and maintain composure when it arrives. Problems get solved only with calm deliberation."
Wise words, indeed.
The Bottom-Line for Now:
This fascinating, fast-moving, hyper-connected world we are working and living in is indeed much like a wilderness expedition filled with unknowns and new challenges over every hill. In the wilderness, a good plan plus the ability to adapt on the fly to emerging challenges is the difference between life and death. It's increasingly the same in our world of work.
–
More Professional Development Reads from Art Petty:
Don't miss the next Leadership Caffeine-Newsletter! Register here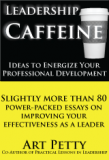 For more ideas on professional development-one sound bite at a time, check out Art's latest book: Leadership Caffeine-Ideas to Energize Your Professional Development. 
Download a free excerpt of Leadership Caffeine (the book) at Art's facebook page.
New to leading or responsible for first time leader's on your team? Subscribe to Art's New Leader's e-News.
An ideal book for anyone starting out in leadership: Practical Lessons in Leadership by Art Petty and Rich Petro.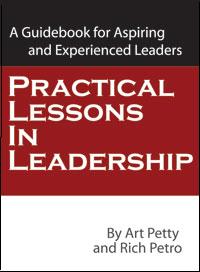 Need help with Feedback? Art's new online program: Learning to Master Feedback
 Note: for volume orders of one or both books, drop Art a note for pricing information.