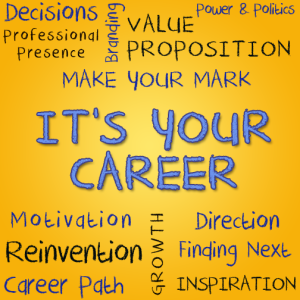 Note from Art: Welcome to a new Friday Career Feature here at Management Excellence.  You work hard in your job, but how much time do you spend working ON your career?
When it comes to your career, the best defense is a good offense.
The odds are fairly good that at some point during your career, you will face an unexpected interruption in your employment. The issue isn't that it happened, it's what you do once you're faced with this problem that is critical to your career.
Given that our new normal is one that includes rapid obsolescence of products, technologies, companies and even entire industries, it's common for the process of recovering from a job loss to be much more about reinvention and much less about traditional search.
5 Ideas to Help You Jump Start Your Next Career Step Before the Old One Disappears:
1. Actions Count. Make the commitment to dealing with this fuzzy, ambiguous topic of, "what do I do if my industry/firm/job disappears?" Thinking about it isn't good enough. Action begets action. Get up off the couch, turn off the latest episode of (insert your list of favorite mind killing shows) and begin the work of designing your career forward.
2. Cover the Basics. Too busy to finish your degree twenty years ago? That's going to haunt you now. Fix it. Need a refresh on the MBA? There are plenty of programs available to bring your skills up to speed. Check in with your alma mater or peruse the professional development options available at your Community College.
3. Shed Your Dinosaur Shell. Find someone to teach you how professionals use social media and get out there. Start a blog; learn to tweet; learn to follow and learn how to carefully and respectfully cultivate a LinkedIn network like your next job depends upon it. It might. And while you are at it, bring your technology skills up to speed. If you intend on remaining a part of the broader workforce, you are now in an era and an environment where people who assume the internet has always been there and don't get why someone might use a phone for anything other than texting, are increasingly the norm.
4. Get Help Navigating If You Are Lost. Not knowing what to do next is a big problem for many who find themselves suddenly sitting on the sidelines and looking out at a game that has completely changed. From Career Counselors to your Alma Mater's Career Center to Small Business Development Centers (in every county in the U.S.) to your Community College, there are resources out there that can help you define options and paths as well as evaluate the feasibility of following long dormant dreams of your own business. Ask for help. Don't sit at home waiting for enlightenment.
5. Treat Your Career Reinvention Like a Strategic Planning Project. Assess the environment. Look at your strengths and weaknesses. Map potential opportunities and threats and focus in on the most feasible option Define a series of integrated actions (education, training, network development etc.) and steps that move you towards your best option, and set up performance measures to gauge your progress.
The Bottom-Line for Now:
Consider these ideas as good precautions. It pays to be prepared. Insurance, fire extinguishers and a good "next step" plan are all priceless when you need them, and so is a good "Plan B" for your career.
–Related Reading at Management Excellence: Defining Your Professional Value Proposition
–
More Professional Development Reads from Art Petty: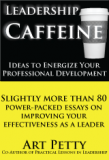 Don't miss the next Leadership Caffeine-Newsletter! Register here
For more ideas on professional development-one sound bite at a time, check out Art's latest book: Leadership Caffeine-Ideas to Energize Your Professional Development.
New to leading or responsible for first time leader's on your team? Subscribe to Art's New Leader's e-News.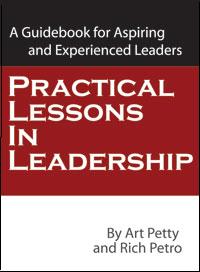 An ideal book for anyone starting out in leadership: Practical Lessons in Leadership by Art Petty and Rich Petro.