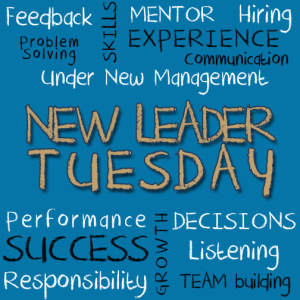 The New Leader Tuesday series is dedicated to helping first-time, early career and even experienced professionals with a "beginner's mind" progress on their journey towards effective leadership.
As your responsibility in guiding and managing others grows, you are increasingly involved in the organizational dialog around budgets, projects and talent. Congratulations, you've entered the political arena in your workplace where power and influence decide who goes where and which teams and projects are on the receiving side of new investment.
While the idea of "playing politics" seems and sounds odious, particularly given the example set by our elected officials in Washington, you cannot ignore the political environment in your workplace, or you and your team risk being marginalized.
The challenge is to participate in the process without sacrificing your integrity.
3 Ideas for Playing Politics without Sacrificing Your Integrity:
1. Work hard on building sturdy bridges across the organization. There's nothing wrong, dirty or evil in developing relationships with rising stars and teams or project members working on critical issues. Find a way for you and your team to add value to their issues by offering resources or offering expertise to help solve a key challenge, and you'll be building points on the right side of the political ledger while helping your firm move forward.
2. Nothing beats great results and bit of careful self-promotion. Great performance builds credibility and helps you cultivate political leverage. No amount of political gamesmanship will outflank your team hitting and exceeding their targets, so don't lose track of Job #1 while you are busy scouring the political arena. Developing a reputation as a leader of high-performance team never hurt anyone's career. Enlist your boss to spread the word, and like a good P.R. professional, create newsworthy information for the boss to use in management meetings or for the company newsletter editor to share with everyone in the next issue. Be creative…just remember to tie the news to the firm and to customers, and don't make it seem like shameless self-promotion.
3. Don't stay anchored to what your team or function has done historically.  Yesterday's tasks and victories are old news. Organizations thrive on the ability to respond and adapt to changing conditions now more than ever, opening up great new opportunities for aggressive leaders and teams to step up. If you're doing your job building credibility and cultivating an effective and respectful working environment, your team will trust you to select opportunities that are compelling and valuable. Don't be that manager that keeps his team insulated from the big, hairy issues of the organization because you think you are protecting them. You're not…you are actually holding them back.
Learn to monitor the internal and external environments and when opportunities are presented or, you or your team members identify them ahead of others, step up, volunteer and help push something forward. There's a bonus, in the process of actively pursuing new and important challenges, you will be growing your own  and your team's power and influence. That's just good politics!
The Bottom-Line for Now:
Choosing to ignore the internal power dynamics in your organization should come with a warning label. "Ignoring reality may prove harmful or fatal to your employment and to your team's advancement." Instead of taking comfort in a naive pride in your ability to "avoid the games," participate in a manner that allows you to retain your integrity and grow your success and the success of your team members.
–
More Professional Development Reads from Art Petty: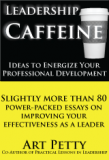 Don't miss the next Leadership Caffeine-Newsletter! Register here
For more ideas on professional development-one sound bite at a time, check out Art's latest book: Leadership Caffeine-Ideas to Energize Your Professional Development.
Order one or both books for your team. Contact Art.
New to leading or responsible for first time leader's on your team? Subscribe to Art's New Leader's e-News.
–