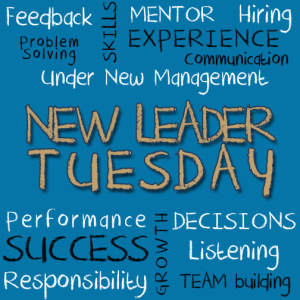 The New Leader Tuesday series is dedicated to helping first-time, early career and even experienced professionals with a "beginner's mind" progress on their journey towards effective leadership.
—
This job of being responsible for the work of others would be easy if it weren't for the people!

As a first-time supervisor, I recall cloaking myself in a no-nonsense, my way or the highway persona. I suppose it was a style that I thought was appropriate given my newly anointed role responsible for the survival of western civilization and the timely delivery of answers on the support lines for our firm selling electronic cash registers. After all, the cash registers must ring…or roll…or calculate, and nothing was going to keep MY team from delivering the best service in the industry. So help me… .
I was taught quickly by the patient but perplexed team members who had no intent of responding positively to the new dictator in charge, that I had to change or perish in this role.
In reality, my approach reflected a lack of style…and awareness…and emotional intelligence…and social intelligence…all issues that many of us struggle with when thrust into first-time management role without background training or real-time coaching and feedback.
First-time supervisor burnout or flame-out is an all-too-frequent outcome that is costly and destructive to individuals and teams. Training, coaching and feedback are critical…with two out of three of these free. If you're not getting the support and feedback you need in your new role, ask for it, find a mentor at work or find someone who has experience in your network of friends and family and ask questions and learn from their wisdom!
I learned several valuable lessons from this uncomfortable first-time supervisor's boot camp experience: 
It's critical to be clear and universal in reinforcing the firm's values and in setting expectations and ensuring fair and timely accountability across the team.
It's not only OK to adapt my style to the needs and approaches of the individuals, it's essential to support relationship development and begin building leadership credibility. Again, no compromising on values, expectations and accountability…but definitely customization of my approach. While this seems intuitive, it wasn't a reflex action for me. It was a learned approach. The hard way.
The wonderful thing about working with and guiding and supervising a team is the diversity of approaches and styles. They are in and of themselves the ingredients of creativity and innovation and learning, and the sooner you as a first-time supervisor or manager recognizes and adapts to this reality, the faster you will begin building credibility and forming productive working relationships.
Learn to Recognize the Preferences of Your Team Members:
While there are many and varied styles and communication or interaction preferences, a few examples include:
Individuals who thrive on regular care, feeding and attention. They thrive when their work is visible and they have an opportunity to engage, ask questions, showcase their progress and generally maintain a steady level of contact with you.
Others take pride in their independence and will let you know only when they need help. While it is reasonable for you to check in from time-to-time, make it as non-intrusive as possible…just enough to ensure your obligation for awareness and quality.
Some shine in group settings…and others…those filled with brilliant ideas struggle to engage and share in those environments. Others simply would rather walk on hot coals than be thrust into a group initiative.
A Public Service Notice: No Micromanaging Styles…Ever.
It is never acceptable to adopt a micro-managing approach. If you feel forced to adopt this style, you have a performance problem that must be dealt with as such. Sadly, too many first-time and experienced managers miss this memo on micro-managing. It's toxic, ineffective and just plain bad form on the manager's part. Fix or remove the problem, but don't reduce yourself to standing over someone's shoulder.
The Bottom-Line for Now:
You will cultivate a style over time…in large part by learning from trial and error. You can accelerate the learning process and improve your effectiveness by remembering to adapt your interaction style to the behaviors and preferences of others, while never compromising your commitment to fairness, your firm's values or your obligation to drive results.
—
More Professional Development Reads from Art Petty: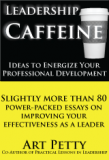 Don't miss the next Leadership Caffeine-Newsletter! Register here
For more ideas on professional development-one sound bite at a time, check out Art's latest book: Leadership Caffeine-Ideas to Energize Your Professional Development.
Order one or both books for your team. Contact Art.
New to leading or responsible for first time leaders on your team? Subscribe to Art's New Leader's e-News.