One of the many pleasures of this podcast project is the opportunity it affords to connect with remarkable people. While Susan Butler's excellent book, Become the CEO of You, Inc., offers great insight, wisdom and career guidance for all of us (with an emphasis on aspiring female executives), it is her fascinating, trailblazing biography that serves as true inspiration.
Susan ties in some priceless career guidance with her story as the rise to become the first female partner of Accenture.
Leadership Caffeine Podcast Episode 19-Become the CEO of You, Inc. with Susan Bulkeley Butler
[ 30:36 ]
Play Now
|
Play in Popup
|
Download
The book, CEO of You, Inc., is framed around a four-part process for managing your career:
You are the CEO of You, Inc.
Create the Vision for You, Inc.
Build Your Team
Develop Your Plan
And it offer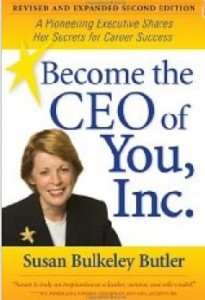 s proven and practical guidance for "Navigating the Journey." Susan's input on taking ownership of your career, developing and acting on your vision and seeking help along the way in the form of feedback, journaling, establishing your own Board of Advisors and many others, are particularly important for all of us in this challenging world today.
While she's moved forward from her days serving clients and developing young professionals at Accenture, Susan has adopted a bit loftier goal, "to change the world." As the founder of the Institute for the Development of Women Leaders and an active educator, speaker and coach, she's well on her way to doing just that!

Enjoy learning more about this inspirational human and remarkable role model and in particular, enjoy learning from Susan Butler. It was my pleasure to connect with Susan. Enjoy the interview!
(You can learn more about Susan and contact her, by visiting her website at www.sbbinstitute.org)
—
Don't miss the next Leadership Caffeine-Newsletter! Register here.
For more ideas on professional development-one sound bite at a time, check our Art's latest book: Leadership Caffeine-Ideas to Ene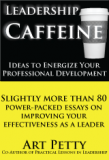 rgize Your Professional Development. 
Download a free excerpt of Leadership Caffeine (the book) at Art's facebook page.
New to leading or responsible for first time leader's on your team? Subscribe to Art' New Leader's e-News.
An ideal book for anyone starting our in leadership: Practical Lessons in Leadership by Art Petty and Rich Petro.
Need help with Feedback? Art's new online program: Learning to Master Feedback $59