We live and work in a transactional world where most of us experience a large number of low engagement, sound-byte type interactions in our professional and even our personal lives. It's the rhythm of our age.
Few and Far Between:
Take a few moments and try and recall the last time you engaged in a high quality, interactive conversation with a peer, boss or direct report that led to a valued outcome, a new insight or a new direction. While perhaps your situation is unique, I hear often from colleagues and clients that the transactional conversations grossly outweigh the quality conversations.
A Typical Day Spent Interacting but Not Engaging:
Consider a typical day spent communicating in the workplace for many of us. When we're not rushing from status meeting to status meeting (low value add), or, triaging on how to put out a small brush fire, we're texting our colleagues, sneaking a peek at our facebook walls, and checking to see if someone thought the last tweet we posted was witty enough to share with a few thousand people we don't know. And then, we're having hurried and harried conversations in hallways and yes, even restrooms.
And then there's the ubiquitous cell phone. Thanks to the advent of this technology, we pay a veritable fortune to talk to each other on a device that has reduced the audio quality of most interactions to the equivalent of talking through two tin cans connected by a hollow jump rope. (I'm dating myself, but cellular quality is so poor that it makes one pine for the old days of a wall mounted phone in the kitchen, where the sound was pristine, and if we needed to be mobile, we bought an extension cord for the handset and walked into the next room.)
The Cost of Our Poor Connections:
I see the impact of our fast-paced, sound-byte culture in the halls and conference rooms of clients and on the survey results of organizations all of the time. People are disconnected from organizational strategies and goals. Instead of building teams that perform because the members trust each other, we build teams that are great at identifying excuses for being over budget, under performance and late.
Too many leaders aren't giving feedback and worse yet, they're not listening for any. In many organizations, the lack of connectivity and quality communication translates to feelings of low morale and disenfranchisement, leading to higher turnover and poor(er) customer satisfaction. (Seriously, when was the last time you talked with someone who was genuinely happy to be helping you with a problem?)
Speed Kills…It's Time to Slow Down and Connect:

Sadly, we have no one to blame but ourselves for the miserable level of communication in most workplaces.  Fortunately, there's something that all of us can do about it. Sloooooow down and remember to invest in quality interactions.
Instead of perpetuating the seemingly never-ending game of move-fast but don't engage with quality interactions we're all so good at, just for this day, hit your mental slow-down button and vow to reach out and actually converse with the people around you.
Stop by, ask questions, check up on the kids or the health of a loved one.
Challenge groups to step back from yet another mind numbing status update and actually talk about how things are going and what can be done to improve the performance and experience.
And for those who work with and for you, there's nothing more respectful you can do than show genuine interest in their work and invest time to see what people are learning…or, explore where they need help.
The Bottom-line for Now:
Paying attention to someone…caring enough to listen deeply and authentically is the highest form of respect you can pay that person. Taking time to learn from someone, understand what is important to them or, just show that they aren't alone on this journey is more motivating than any poster or pep talk.
Starting today, vow to engage a bit more and then keep improving every day.
–
More Professional Development Reads from Art Petty:
Don't miss the next Leadership Caffeine-Newsletter! Register here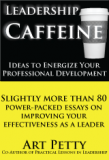 For more ideas on professional development-one sound bite at a time, check out Art's latest book: Leadership Caffeine-Ideas to Energize Your Professional Development. 
Download a free excerpt of Leadership Caffeine (the book) at Art's facebook page.
New to leading or responsible for first time leader's on your team? Subscribe to Art's New Leader's e-News.
An ideal book for anyone starting our in leadership: Practical Lessons in Leadership by Art Petty and Rich Petro.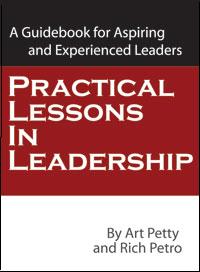 Need help with Feedback? Art's new online program: Learning to Master Feedback
 Note: for volume orders of one or both books, drop Art a note for pricing information.