Here are a few more of my favorite things when it comes to professional development. Part 1 focused on leadership, strategy, getting to the next level and cultural intelligence. In Part 2, I range a bit further afield with an eclectic suggestion list of biographies. And remember, the best books on leadership aren't found in the business section!
Colonel Roosevelt by Edmund Morris
The latest and last in a great series by Morris on Theodore Roosevelt, this book follows this iconic man's life from post-presidency until his death. We should all have so much adventure! While Theodore Roosevelt's story is bigger than life, his last decade may well be the most interesting period in this intrepid adventurer's all too short time here on this planet.
Memoirs of the Second World War by Winston Churchill
There's a lot written about and by Churchill. This single volume is digestible in weeks instead of months, and you'll get the Lion's eye view of what it was like to hold a nation together during its' darkest hours. Ideal for the history or leadership fan in your life.
The First American-the Life and Times of Benjamin Franklin, by HW Brands
While Washington may have earned the name, "Father of Our Country," in my opinion, Franklin was the architect. For a complete view of this great man, tie Brands' book together with Franklin's autobiography
The Last Viking-The Life of Roald Amundsen, by Stephen R. Brown.
I read Lynne Cox's South with the Sun about Amundsen last year (recommended), and Brown's new book is on my holiday list. Amundsen may well have been the world's greatest project manager. His attention to planning and detail helped him succeed and survive where others have failed. Everyone in leadership should study the great explorers!
 Wizard-The Life and Times of Nikola Tesla-Biography of a Genius, by Marc Seifer
Edison won the war of commercialization, but Tesla may well have been the most important genius most people have never heard of. Read and be amazed at this complex human who changed the shape of the world and died in obscurity.
Matsushita Leadership-Lessons from the 20th Century's Most Remarkable Entrepreneur by John Kotter.
Kotter is of course the author of the seminal work on change, Leading Change. He also held the Konosuke Matsushita Chair at Harvard, and has captured the essence of this remarkable founder of the firm today known as Panasonic.
–
More Professional Development Reads from Art Petty:
Don't miss the next Leadership Caffeine-Newsletter! Register here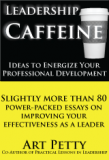 For more ideas on professional development-one sound bite at a time, check out Art's latest book: Leadership Caffeine-Ideas to Energize Your Professional Development. 
Download a free excerpt of Leadership Caffeine (the book) at Art's facebook page.
New to leading or responsible for first time leader's on your team? Subscribe to Art's New Leader's e-News.
An ideal book for anyone starting our in leadership: Practical Lessons in Leadership by Art Petty and Rich Petro.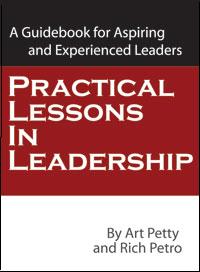 Need help with Feedback? Art's new online program: Learning to Master Feedback
 Note: for volume orders of one or both books, drop Art a note for pricing information.